A Krispy Kreme ATM Is ACTUALLY A Thing!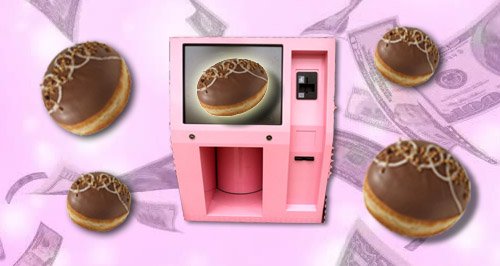 What would you do if you put your card in a machine and doughnut popped out?
A new venture by Krispy Kreme could make it easier than ever to get satisfy your sugar craving, as the famed confectionery brand are setting up a cashpoint just for doughnuts.
The magical hole in the will enable customers to indulge in the sugary treat outside of opening hours (you know, just incase you get that late night craving!)
Krispy Kreme are planning the revolutionary step to coincide with the launch of their brand new flavour, NUTELLA!
Just when you thought the devilish treats couldn't get anymore calorific, they'll be filled with the creamy chocolatey spread and a sprinkle of nuts for good measure.
The news comes after a mysterious "confidential" email was leaked on the internet on Thursday.
Lool wow well done #KrispyKreme and your marketing team sending a 'confidential' memo to Everyone, just brilliant pic.twitter.com/cLPh7b67iU

— Anisha :) (@AnishaRhoden) 5 May 2016
Fans will be able to use the special ATM for a limited time between May 9 and May 21, when it lands in Holborn, London this month. However we've got our fingers crossed it will be rolled out nationally too!
Each doughnut will cost £2 and all the proceeds go to Teenage Cancer Trust - so technically speaking, the more doughnuts you eat the more money donated!
It's a win, win situation really!