Is Prosecco Pong This Summer's Most Glamorous Game?
27 July 2017, 15:34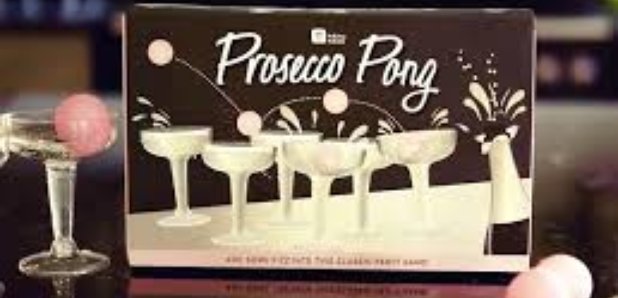 Beer pong is soooo over.
Are you hosting a garden party this summer and need to make it truly memorable? Perhaps you need some inspiration for a new game to play that will have everyone talking? Well, step right this way becomes here comes – drumroll please - Prosecco Pong.
"Prosecco what?" we hear you cry. Well, it's a glammed-up version of Beer Pong. And if you don't know what Beer Pong is, then where have you been? It's gained in popularity in the UK in recent years, but first came to life in American college campuses.
Beer Pong is a drinking game where players throw a ping pong ball across a table, with the aim of landing the ball in a cup of beer at the other end. There are usually two opposing teams of two or more players per side with 6 or 10 cups set up in a triangle formation on each side.
If a ball lands in the opposing team's cup, the contents of that cup are consumed by the other team and the cup is removed from the table. The first team to eliminate all of the opponent's cups is the winner. Simples.
Prosecco Pong takes things to a whole new level, though, and it's perfect for those of us who don't like beer. Party-ware company Talking Tables has produced a boxed game which has all you need to get started. (Except for the actual Prosecco).
The kit includes 12 plastic wide-necked prosecco glasses (you would have a difficult job landing a ball in a flute) and plastic pink balls, and is available to order online from today.
Obviously, you should drink responsibly while still having fun. And don't be too enthusiastic while throwing the balls, or there'll be a few smashed glasses to sweep up.
Now, is it the weekend yet?