McDonalds Launch Bejewelled Designer Burger Boxes And We Secretly Want One
23 August 2017, 15:29
Are these the most extravagant burger boxes you've ever seen?
A-List fashion deisgner Julien Macdonald has designed a bespoke burger box for McDonalds and whilst our heads are telling us it's the most unnecessary thing we've ever seen, our hearts are saying that we can't wait to get our hands on one.
The 46-year-old fashion designer has teamed up with the fast food chain to create the bejewelled packaging, and the mogul has revealed he wanted the product to resemble a "jewellery box" with lots of glitz and glamour.
Speaking to Heart about his latest venture, the revered fashion designer said: "It's meant to be a luxury of a bun, so they said 'Would you design a luxury box', and I've never worked on a food collaboration before so I thought, why not?
"I just drew inspiration from all of my favourite things and my very favourite red carpet dresses, things that are very glamorous, very metallic, very glitzy, very showbusiness.
"It's supposed to make you happy, make you laugh."
@julienMacdonald collaborated with @McDonaldsUK to make the most extra burger box I've ever seen. I want one #thesignaturecollection pic.twitter.com/nILJvat8SW

— Hollie Borland (@HollieBorland) August 23, 2017
It's hard to believe that anyone from the fashion industry has any interest in the fast food chain, but Julien confessed to being partial to the odd burger or two when he was younger.
He said: "When I grew up as a small boy in Wales, we'd always go to McDonalds once a week. It's always treat. My favourite was always a cheese burger and fries, chocolate milkshake. It's always been something I've always liked doing.
"My mother actually still goes out every Friday, that's her treat for the week."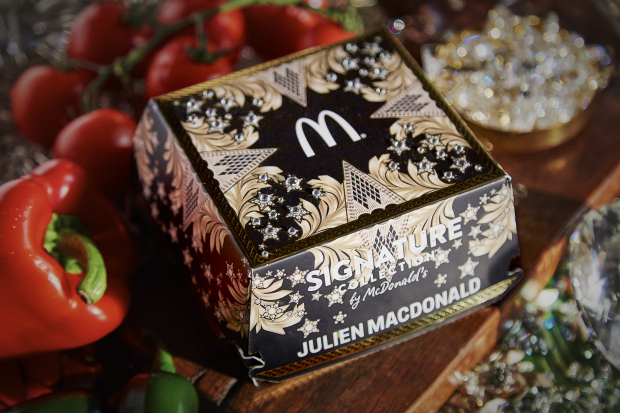 There are limited number of burger boxes designed by Julien Macdonald. Picture | McDonalds
If you are hoping to get your hands on one of these glamorous boxes, you'll be disappointed to discover that there are only one of the beautifully bejewelled boxes that will be auctioned to raise money for the Ronald McDonald House Charities (RMHC).
However, fans can get their hands on very limited numbers of Julien Macdonald's McDonald's box by signing up to one of a series of McDonald's showcase events around the UK. you can enter here.
But hurry because there's only 1000 out there...