Pink Proves Why 'Baby Weight' Is Just A Number With Inspiring Note To Mothers
4 April 2017, 15:48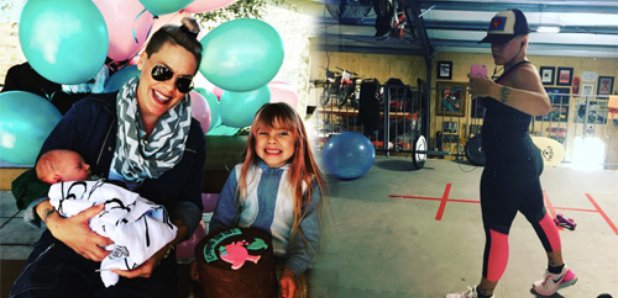 The "So What?" hitmaker took to Instagram to talk body confidence after giving birth to her second child.
Fans have praised Pink for her powerful message about the pressure for mothers to lose weight after having a baby.
The "So What?" hitmaker took to Instagram to share a few candid words for both new and expectant mothers, in which she urged them to stay away from the scales and not stress over being a certain size.
Pink has long been an advocate for individuality and promoting a realistic and healthy body message, particularly after giving birth to two children.
The proud mum of two, to daughter Willow Sage, five and newborn son Jameson Moon, posted a picture of herself working out in the gym with the message: " Would you believe I'm 160 pounds and 5'3''?"
"By 'regular standards' that makes me obese. I know I'm not at my goal or anywhere near it after Baby 2 but dammit I don't feel obese. The only thing I feel is myself."
"Stay off that scale ladies!"
Her message hit home with fans, with more than 240,000 likes so far and thousands of comments praising her positive body image and realism.
One wrote: "Thank you for your encouraging words! I have a 12 week old daughter and my body is far from what I expected to be at this time… I don't like the image in the mirror but I do love my body because this made a little miracle possible! Go girl, you are amazing!"
We think she's amazing too!