Kiss The Drive Thru Goodbye As McDonalds Introduces 'McDelivery'
22 June 2017, 16:26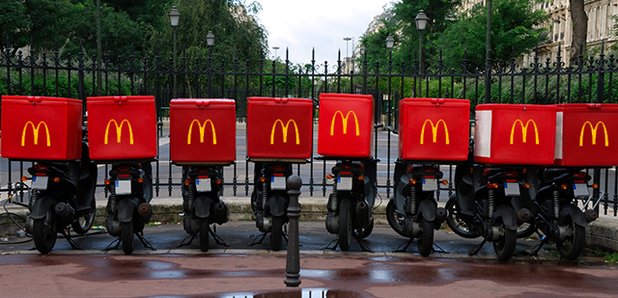 You'll never have to hop in your car for a Big Mac ever again!
Whether its for a quick tea for the kids or an easy breakfast when you're hungover, there's no denying that McDonalds is the ultimate easy option.
Well you may be pleased to know that this fast food chain has just got a whole lot lazier! Introducing, McDelivery.
Before, nipping to the drive thru window was the most low effort way of bagging some fast food but now things have got even more laid back.
Thanks to the clever folk over at UberEATS and of course McDonalds, people London, Nottingham and Leeds will now be able to order their perfect happy meal from the comfort of their own home.
Even though the service is only available in select locations at the moment, this 'soft launch' is happening with a potential end of rolling it out nationwide. Restaurant teams will be looking to learn what works and what doesn't in this futuristic fast food move!
So how does this new fangled system work then?
Well you have to download the UberEATS app or visit www.ubereats.com, then pick your delivery location which can be done by looking for the participating restaurant nearest to your location.
Then all you need to do it pick your order, pay and track your delivery by watching it head your way on their handy live map.
Mathieu Proust the General Manager of UberEATS said "we're excited to be working with McDonald's to begin delivery of their food for the first time in the UK".
We can't wait to give this a go!