Nadiya Hussain Divides Viewers With This Exotic Version Of A Steak And Kidney Pie
8 August 2017, 08:08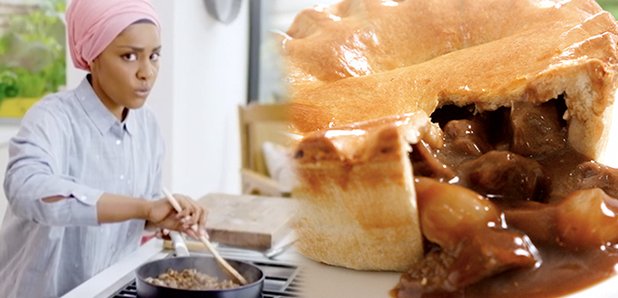 The baking queen turned her hand to more savoury treats during her programme but not everyone was happy!
We have been absolutely loving Nadiya's British Food Adventure.
In case you've missed it, the 2015 Bake Off Winner's new programme has seen her travel up and down the UK uncovering local food heritage from around the country and combining it with her own to make some pretty tasty looking creations.
Over the course of the programme so far we've seen Nadiya Hussain's take mouthwatering on Welsh Rarebit using smoked haddock and last week she made a bonkers Crisp And Chocolate Tart using...ready salted crisps!
Despite how different some of her creations sound we've never had any doubt that they would taste incredible, but this week she divided fans with her version of a British classic: a Steak and Kidney Pie.
The baking superstar decided to add a Moroccan twist to the traditional dish which is normally made from diced beef, diced kidney, fried onions and brown gravy.
We're wishing that too, @BegumNadiya! #NadiyasBritishFoodAdventure pic.twitter.com/fbhev6mgIH

— BBC Two (@BBCTwo) August 7, 2017
Her version of the dish used the fragrant spice mix ras el hanout along with Ginger Beer to add a North African twist to a Brit favourite. She also cooked the pie by lining a baking tin with the pastry rather than a bowl which is done usually to create its traditional dome shape.
But as always, when you mess with a classic you have to expect to divide opinion...
@BegumNadiya OOOOO mum is mad that you put the pie in a tin not a bowl, "ooooo no Nadiya you've lost me there' hahahah

— teels♀ (@xteelalouise) August 7, 2017
Ginger beer in a pie? Madness! And yet... sounds amazing. #NadiyasBritishFoodAdventure

— Laura (@uisgebeatha) August 7, 2017
@BegumNadiya Result! My husband watched #NadiyasBritishFoodAdventure with me and promised to make your yummy steak & kidney pie #sodthediet

— hetty H west (@hettynel) August 7, 2017
Now ginger beer in a steak & kidney pie??!! #nadiyasbritishfoodadventure

— Sian Jasper (@SianJasper) August 7, 2017
It's definitely a controversial recipe for such a popular comfort food across the land but in Nadiya we trust! Pass us the ginger beer please we want to give this a go...