Pumpkin Cheerios Are ACTUALLY A Thing...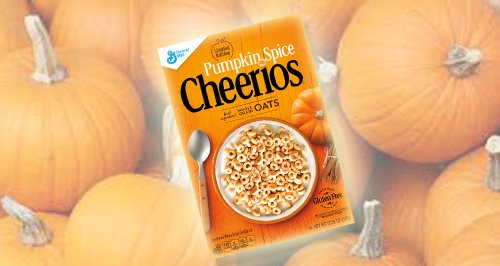 It's not even Halloween but Cheerio's have jazzed up their cereal offering with a weird new flavour.
The novelty of pumpkin spice is something we usually equate with Halloween, or a limited edition seasonal latte at Starbucks.
However Cheerios are the latest brand to jump on the pumpkin bandwagon with their latest offering which has come two seasons WAY too early.
Read more!
According to Bloomberg, General Mills is introducing the cereal to try to reverse flagging sales, but unfortunatley for us Brits it will only be avialble in America.
We can't even begin to imagine what this would taste like, but we can only assume our tastebuds would be left feeling very baffled.
There's nothing that unites (or divides!) people more than a controversial new cereal flavour, so obviously it wasn't long before cereal fans took to Twitter to express their opinion - with many accusing the brand of bandwagoning.
Cheerios hope to spice things up. Pretty sure it won't be as good as the latte https://t.co/98GQrB9npG

— Lauren Gardner (@LGRed) April 20, 2016
LOL "We just have to keep it relevant" https://t.co/eCOLu5t4el

— Krista Holobar (@kjholobar) April 20, 2016
Cereal gets even more basic. General Mills Bets on Pumpkin Spice Cheerios to Boost Brand https://t.co/AVcqqhdzZ9 pic.twitter.com/SjBe7NwHny

— Rani Molla (@ranimolla) April 20, 2016
@AbbDean @MnetNews no pumpkin spice Cheerios for me

— Mike Wilson (@tclomike) April 22, 2016
We love cereal and we love pumpkin spice... but not together. We think we'll pass on this!