Everyone Is Raving About These Yorkshire Pudding Burritos And We NEED One
25 September 2017, 16:37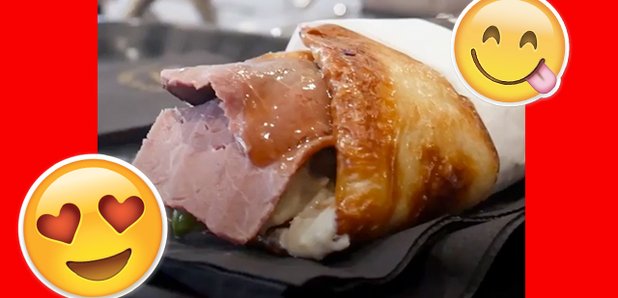 Warning, you probably wont be able to get through this article without feeling hungry.
Thanks to our tendency to share photos of delicious food online people have started to get seriously creative in recent years.
We've seen unicorn latte's, freak shakes, bubble waffles and many other marvellously mouthwatering creations but this latest one we need to get our hands on.
Introducing...the Yorkshire pudding burrito!
Appropriately invented in Yorkshire by the York Roast Co, the 'York Pud Wrap' has been taking the UK by storm with thousands sharing photos of the dreamy looking dish across social media.
It is made of a roast dinner including meat and vegetables of your choice neatly wrapped up inside on HUGE Yorkshire pudding complete with gravy.
This has taken the Sunday roast to the next level and we are too excited.
This ingenious take on a national dish seems to have got the whole country excited as crowds of people have been flocking to the York Roast Co's flagship branch in York with people queuing round the corner for their York Pud Wraps.
The chain also has shops in Chester, Shrewsbury and Salisbury so your tastebuds are in luck if you live near those cities! But fear not, rumour has it the York Roast Co are looking to expand to other tourist cities such as Oxford and Cambridge soon.
Whose hungry?