Get A Great Night's Sleep While Partying At Rewind Festival!
7 July 2017, 06:00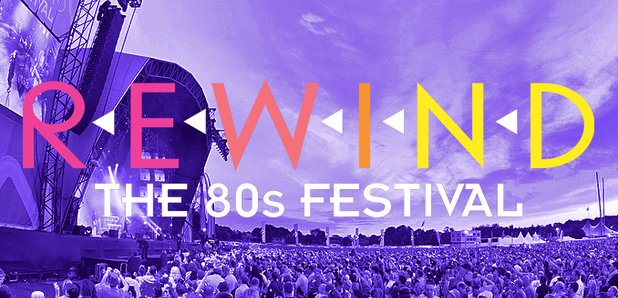 The world's biggest 80s music festival comes to Henley-on-Thames in August. But you'll still need a good sleep!
Get out those shoulder pads and crop tops and step back in to the 1980s to enjoy the decade's best music!
REWIND SOUTH is back at Temple Island Meadows, Henley-on-Thames on Saturday August 19th and Sunday August 20th 2017.
Saturday night is party night with New York's finest Village People and Gloria Gaynor and on Sunday it's time to Rock out with Rock gods Status Quo.
There's also Rewind South debuts from Big Country, Tom Robinson, Sugarhill Gang ft Grandmaster Mele Me & Scorpio's Furious 5 and Junior Marvin's Wailers.
Kim Appleby, Sex Pistol Glen Matlock, Jilted John, Owen Paul and Rozalla perform with British Electric Foundation. There's also a festival first from the amazing West End show Thriller Live.
Musical Youth, Level 42, Nik Kershaw, Nick Heyward, Dr & The Medics, Imagination Ft Leee John, Midge Ure, Kim Wilde, Belinda Carlisle, The South, Go West, The Christians, Heaven 17's Glenn Gregory and Ex Katrina and The Waves complete an amazing weekend of 80's acts.
But while you're enjoying this musical step back in time, it's also vital to get a proper night's sleep. After all, if you're more rested you can enjoy the event more. But surely sleep and festivals don't go together, you say? Well, we spoke to Kathryn Pinkham, founder of The Insomnia Clinic and Dreams sleep expert. She gave us these handy hints on how to make the most of precious sleep while at Rewind Festival...
You've got to look your best for Go West. Picture: iStock

1. Avoid screens and electronic devices. (Yes, really!).
Electronic screens on TVs, smart-phones and laptops give off blue light which reduces the body's production of melatonin. We need melatonin as it is the sleep inducing hormone so keep the screens turned off while you are sleeping and avoid their use close to bedtime. Besides, it's nice to have a break from them once in a while.
2. Avoid smoking and alcohol around bedtime
This one may be trickier when you're partying, but it's worth thinking about.
If you are a smoker, you might think of a last cigarette before bedtime as a good way to unwind. However, nicotine is a stimulant and more likely to keep you awake. So if you can't quit smoking, then you should at least refrain from smoking within 2 hours of bedtime. Similarly, although alcohol helps many people unwind, after drinking, the quality of sleep is generally poorer than without, so avoid alcohol if sleeplessness is a problem.
3. Be realistic about your sleep goals
This is the one of the most common issues for poor sleepers as they tend to expect 8 hours every night. It's true that some need 8 hours and can easily get it but for many of us less is also adequate. Quality is more important than quantity and by trying to get more sleep than your body can manage leaves you lying in bed staring at the ceiling. As we get older it is normal to find that we sleep for less time and less deeply so it is important to readjust our expectations.

4. Manage your racing mind
One of the most common reasons people can't fall asleep is that they report not being able to clear their mind. If you find you can't drop off as your mind is racing then try to get into the habit of setting aside 20 minutes each day to write down everything that is on your mind. This is a therapeutic way to clear your mind and see in black and white what's troubling you.

Rewind Festival is the biggest party of the summer with camping, glamping, posh nosh, theme bars, dj's, street entertainment, funfairs, silent disco, big top bars, kidzone, fireworks, tradestands, fancy dress and much more!!

See you back in the 80's this summer!
To buy tickets to Rewind 2017, visit the Rewind Festival website here
Like Rewind Festival on Facebook
Follow Rewind Festival on Twitter