You've Been Washing Your Clothes Wrong And Here's How To Fix It!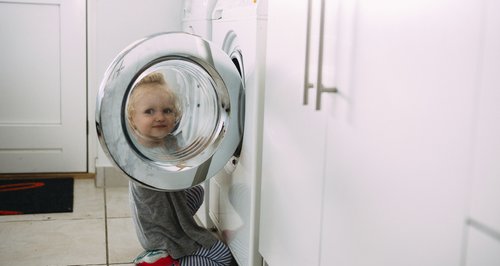 There aren't really any lessons on 'how to do your laundry correctly' - we just learn our domestic duties from our parents. But if there were, maybe we wouldn't be making so many mistakes!
Laundry expert Jenifir Provateare has 20 years of experience in the industry and revealed to the Washington Post the six most common mistakes people make and how we can fix them.
1. Not washing new clothes before we wear them

Picture | iStock
It may seem like an odd idea because we can all agree, up until now we thought that brand new clothes are the cleanest they will ever be! But according to Jenifir, washing new clothes before wearing them will remove any leftover chemicals that could potentially irritate your skin. Plus it will stop the colour running.
2. Not treating stains right away

Picture | iStock
The longer you leave stains, the harder they are to get out. Carrying around a stain pen or spraying stain remover before washing the clothes in the warmest water can help to get rid of stains quickly. However, cold water should be used to remove bloodstains.
3. Cold washes aren't always that great for your clothes
Picture | iStock
Sticking to cold water washes is better for the environment but it doesn't always clean out the first or smells. According to Jenifir, we should be using the warmest water your clothes can handle to make sure they are the cleanest they can be.
4. Using bleach on clothes with elastic
Picture | iStock
Many people believe that using bleach will get bring about the brightest results but it will ruin clothes with elastic. When washing your white socks and underwear, Jenifir recommends switching to a detergent that has bleach included to avoid damaging the elastic.
5. Skimping on detergent

Picture | iStock
Instead of guessing how much you think you should use, check out the recommended amount and stick to it. If you don't use enough, your clothes will look tired and discoloured after every wash.
6. Sort clothes but temperature, not just colour
Picture | iStock
Jenifir advises that sorting your clothes into wash loads based on what the ideal temperature will preserve them. It means that there will be more loads of washing but it will keep your clothes looking great!