Kid Sends Adorable Invite To Neighbour For His Cat's Wedding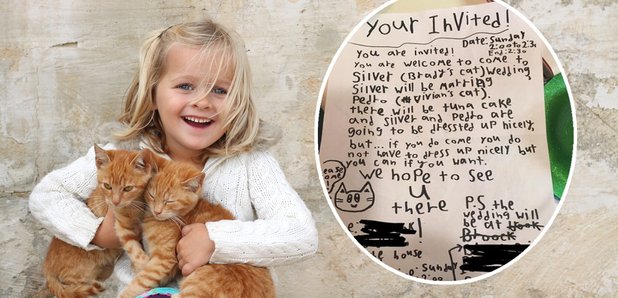 Reddit users are urging the man to attend the nuptials of his neighbour's cat after this adorable note.
A man was given a delightful surprise when he received an invite to a wedding of two cats.
The Reddit user posted the adorable handwritten note to the thread-based website which asked for his attendance at the big event.
The child, named Brady, scribbled a cute message onto a piece of paper which read: "
"You are welcome to come to Silver (Brady's cat) wedding. "Silver will be marrying Pedro (Vivian's cat)." He also revealed that the wedding ceremony would be complete with "tuna cake". The polite letter added: "Silver and Pedro are going to be dressed up nicely, but… If you do come you do not have to dress up nicely but you can if you want."
In order to ensure his guests would attend the ceremony, Brady signed off with some details about the big day alongside a drawing of a cat saying: "Please come!"
How cute?
After reading the invite neighbour took to Reddit to share a snap of the special note, and understandably, it has been viewed over 4,000 times and racked up hundreds of comments.
One Reddit user remarked: "I have never wanted to attend a wedding so badly in my life."
Another said: "Please tell me you are going to go, dressed to the nines. It would make those kids' year."
Kids just have the best imaginations!
Can we snag an invite?