Cheeky Husband's Babysitting Prank Confirms Every New Mum's WORST Fears!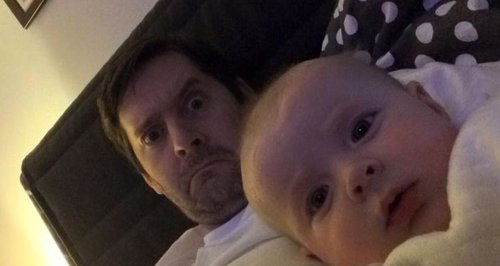 Blogger Matt Coyne made his wife's first day back at work after maternity leave even MORE nerve-wracking after sending these HILARIOUS photos of their baby.
Anyone whose given birth knows how emotional heading back to work can be after being on maternity leave.
Whether it's separation anxiety, because you just can't bare the thought of being away from your newborn, or the guilty feeling of leaving them behind, you often find yourself reassuring your brain that EVERYTHING IS OKAY - after all, your loving parter is looking after them.
Right?
Well, blogger Matt Coyne made sure his wife's first day back at work after maternity leave was even MORE nerve-wracking, after sending these HILARIOUS photos of their baby Charlie in some compromising scenarios.
Matt, who regularly documents his father-son adventures on Man Vs.Baby, jokingly wrote on Facebook: "It's true to say that as Lyns walked out the door that first morning there was quite a few tears, sobbing, and protest-soiling but, in my defence, by lunchtime I had calmed down a bit."
Of course, Matt had agreed to keep his wife Lyns updated on how he had been getting on, so when she texted at 10.35 am to see how her two favourite boys were doing, he shot a message straight back.
Something tells us, it probably wasn't what she was expecting hear.
"OK, we've just nipped in to Wetherspoons for a couple before lunch," he told her with a hilarious picture of Charlie eyeing up a pint attached to the message.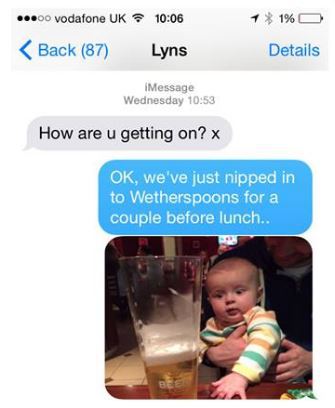 Taking it with a pinch of salt, Lynds questioned her husband again asking: "Haha very funny where are you really?"
Of course by this point the father-son trip had escalated, turning from a cheeky pint at 'spoons into a trip to a local lap dance club called 'Wlidcatz'.
The hilarious photo sees the father-son duo photoshopped into a nightclub, with a woman dancing in the background.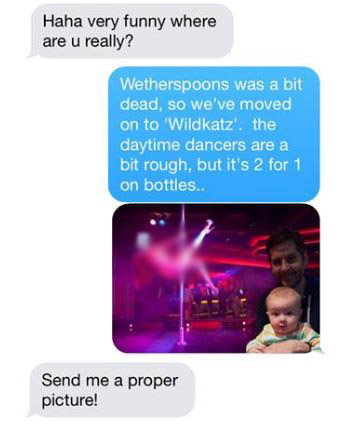 As if the eye-wateringly funny sight wasn't enough to give his poor wife a heart-attack, Matt continued to tease with MORE compromising photos.
After being prompted to send "a proper picture", Matt replies: "'I will do, but Charlie's a bit busy at the minute..."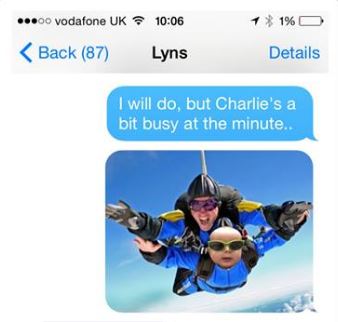 It doesn't stop there either! After sending a picture of Charlie sky diving, Matt also sent a photoshopped image of Charlie being fired out of a cannon! HILARIOUS.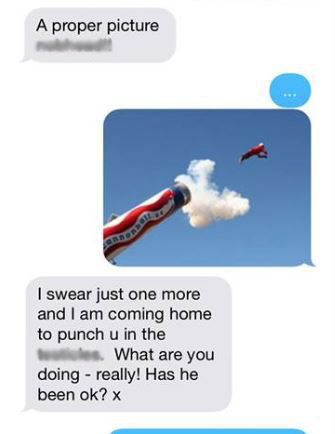 Poor woman!
Something tells us that Charlie was just fine...