This Teacher Does Something Amazing In Class That Blew Away This Famous Rapper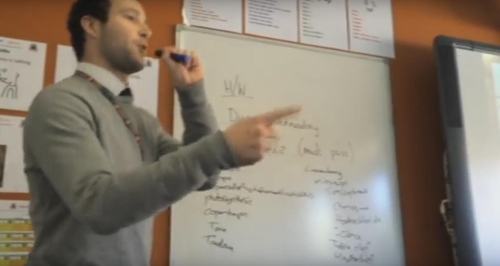 The rap artist 50 Cent said that Mr Foley from London "got some flow", whatever that means...
Aside from being one of the most rewarding jobs ever, we all know that teaching can also sometimes be an absolute nightmare, especially when it comes to keeping the kids engaged.
Well, secondary teacher Mr Foley - who also goes by the name Just Muzz - has come up with a genius way of getting the kids learning: rapping. And what's more, his skills have gained him the respect of big time rap artist, 50 Cent.
In the video, Mr Christian Foley of Cardinal Pole Catholic School in Hackney, raps to his Year 8 English class and another maths class, where he throws words like angles and ratio.
Since it was uploaded to his Facebook page, it's been viewed by over 37.9million people and even caught the attention of 50 Cent.
When Mr Foley realised that 50 Cent had endorsed his skills, he wrote on Facebook: "This is getting slightly weird now, but thanks 50 Cent."
Mr Foley, who grew up and went to school in Jersey, is a poet in residence at a number of schools where he now lives in London.
He said: "My overwhelming feeling is surprise, what's 50 Cent doing with his ear on the youth poetry scene of east London? How did he stumble on this?"
He joked at the nature of the rapper's praise, and said he hoped it ultimately helps him help his pupils.
"I'm amused by the compliment, and its semi-patronising tone," he said. "But yeah my main job is to help my students, and to focus on them, if 50's praise creates opportunities for me, and therefore them, mission accomplished, if not - then it was just a cool Tuesday, and back to work."
Now that is one cool teacher!