Fright Night! Halloween Activities For Thrill Seeking Families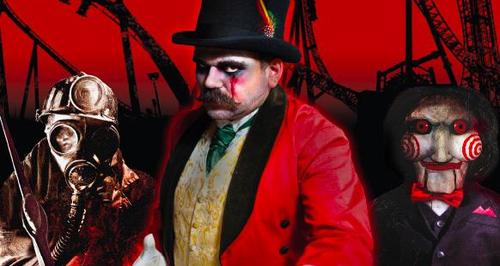 As Halloween gets ready to rear it's ugly head, we have rounded up the scariest, bloodiest, hell-raising attractions for the whole family. Try if you dare!
If hair-raising rollercoasters aren't scary enough, don't worry because there could be a blood sucking zombie lurking in the shadows as Thorpe Park gets a terrifying makeover this Halloween.
Their infamous 'Fright Nights' are back and tempting the bravest of thrill seekers to navigate their way through a number of live-action horror mazes based on Lionsgate's scariest films 'Cabin In The Woods', 'My Bloody Valentine' and 'The Blair Witch Project'.
Now, they've aded two new fully immersive experiences including 'The Big Top', a spine-chilling carnival maze where park-goers have to navigate their way out of the hall of mirrors and face some eerie surprises along the way!
You may want to leave the kids at home for this one!
Warning! Not recommended for kids under 13.
Price: Tickets start from £29.99
What: That terrifying movie you saw last year may well come to life, as you make your way around horror themed sets such as an abandoned industrial estate. Spooky!
Price: From £15.95 (16-31 October)
Warning! Under 15's need to be accompanied by an adult and children under 12 are not advised.
Headless Ghost of Saint Juthware, Dorset
Wrap up warm and carry a thermal full of coffee as you are going to need to be alert in order to spot this creepy ghost who is said to appear at an hour past midnight on All Saints Day in the village of Halstock.
What: Enjoy rides in the dark until 8pm and if that's not enough to keep you entertained, your sure to catch a fright with some of the scary animals in the park's zoo and sea life centre.
Price: From £27 (23 October - 2 November)
What: The hairs on the back of your neck are sure to stand up as you try and figure your way through the park's maze which features a string of scary surprises.
Price: £21.95 (23-31 October)
What: Based on the film, 'The Purge', with five zones, one hour and one weapon, get ready to be scared. When the killing commences, and the sirens scream in horror, grab your weapon and your dignity and try to survive the night.
Price: Monday-Wednesday £25 (26-31st October)
Thursday-Saturday £35 (26-31st October)