WATCH! We Gave Tom Daley The Ultimate Ab Test But He Wasn't Expecting THIS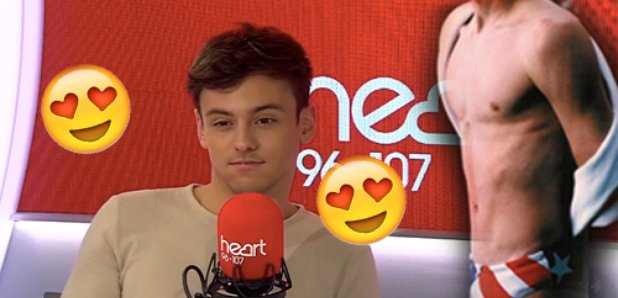 The Olympic diver sat down with Heart.co.uk
When it comes to abs, there's no doubt that Tom Daley has the best in the business.
The British Olympic diver, who has kickstarted the new year with his brand new book 'Tom's Daily Plan', sat down for a chat with us and it wasn't long before we grilled him with a game of 'Pool or Drool?'
Tom had to figure out which set of rippling physiques belonged to the star of the pool or the screen just from looking at pictures of torsos, but things took a hilarious turn when he spotted his fiancé Dustin Lance Black among the list of trunk wearing celebs.
He laughed: "That's Lance when he was about 16 years-old when he was on the swim team! He's definitely a drool, but he is NOT involved in elite sports in any way."
Tom's stealthy knowledge of Hollywood's best abs comes as he releases his very own nutrition and fitness book which seeks to help those looking to usher in a healthier lifestyle this year through easy to prepare recipes and home-workouts.
Meanwhile, Tom has revealed he is set to marry his finance Dustin THIS year.
Speaking during his appearance on This Morning, he told Philip Schofield and Davina McCall he was having fun planning their impending nuptials.
"Yes, I'm in the middle of planning all that with Lance," he said.
"It's all been fun. It's a fun time and an exciting time. I'm really looking forward to this year."
'Tom's Daily Plan' is available from all good retailers and is out NOW!