Emma Thompson Returning To London Stage
16 September 2014, 16:28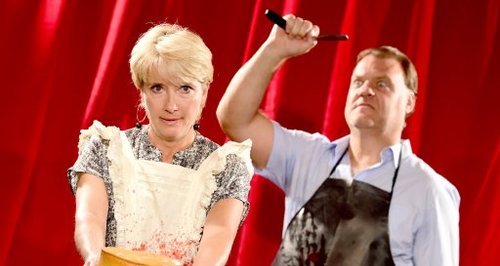 Hollywood star Emma Thompson has told how she hopes to "manage the fear" and avoid nausea when she returns to the London stage in a musical production of Sweeney Todd.
The Oscar winning actress will star in the show at English National Opera's (ENO) London Coliseum, alongside Welsh opera singer Bryn Terfel.

Terfel, 48, will play the eponymous Fleet Street barber who murders his customers while Thompson, 55, has signed up as landlady Mrs Lovett, who disposes of his victims by baking them in pies.

The Saving Mr Banks actress will tread the boards in London for the first time in more than 25 years, with 13 performances next year.

Both Thompson and Terfel performed Sweeney Todd with the New York Philharmonic in a handful of critically acclaimed shows in Manhattan in March.

The Nanny McPhee and Howards End star admitted that she had been terrified when she took to the stage in New York.

"I've never been so frightened ever. What I'm hoping for is a slight improvement," she told a London press conference, "no nausea, no actual nausea.

"If I could manage the fear without the nausea I will be really happy."

Thompson last performed on the London stage in 1989, in a production of Look Back In Anger which was directed by Dame Judi Dench.

She said that she wanted to avoid "pointless" thinking about the time gap.

"You've really got to keep doing different things, flinging yourself and leaping into the dark otherwise you get a bit samey and people get bored," she said.

Asked if she was exercising her vocal cords by singing in the bath, she said: "I haven't had a bath for some time because I'm trying to conserve water. But I do sing in the shower."