Man Injured During London Fashion week
16 September 2014, 16:31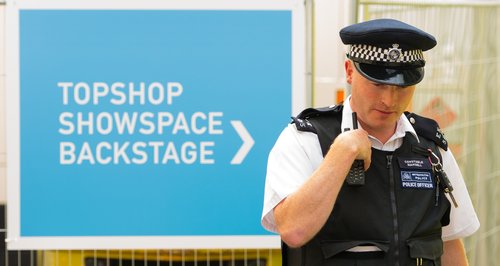 A man has suffered a back injury after plunging through a roof at a venue during a London Fashion Week show.
London Ambulance said the man who is in his 30s had been taken "as a priority" by road to the Royal London Hospital. He was accompanied by a doctor.

Fashion-lovers were at the 1pm Fashion East show when the man crashed through the corrugated roof of Topshop's Show Space in central London and fell about 30ft to the ground.

Jack Morgan tweeted: "Definitely did not expect that halfway through a show! Hope that guy is okay" while another onlooker called Colin tweeted: "Someone just fell through the roof at Fashion East."

Blogger ZOE LDN tweeted: "A man just fell through the roof of the topshop show space in front of me and I'm shaking. I saw his head hit the scaffolding

"Ceiling collapse at Fashion East #lfw one man falls through. Hoping he is okay.

"The show is currently on going so I don't know if he's okay but I'm praying he is. We are all visibly shaken after witnessing that.

"To be honest I'm pretty upset that the show carried on going. It was unfortunate, but we all saw the man fall. They could have stopped."

She also said that an ambulance was immediately called and had arrived during the show.

The London Ambulance were alerted about the accident - a "fall from height" - at 1.18pm.

A spokesman said: "We sent an ambulance crew and London's Air Ambulance to the scene.

"We treated a man reported to be in his 30s for a back injury.

"He was taken to The Royal London Hospital, as a priority, by road ambulance, escorted by the doctor from London's Air Ambulance."

A British Fashion Council spokesman said: "All we know is that he is being treated. We are still waiting to hear what happened."

Fashion East, a project aimed at helping to nurture emerging young designers through the difficult early stages of their career, receives sponsorship funding from high street fashion chain Topshop, Topman and the Greater London Authority.

Topshop tweeted: "For those at the #TopshopShowspace earlier for @Fashion_East the worker from the adjacent building is being cared for by medical staff."