Sing When You're Bidding
15 July 2015, 19:15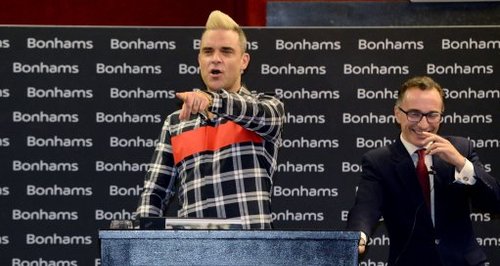 Robbie Williams has had a go at being an auctioneer as more than 150 of his personal items were sold for charity in London.
Fans were left star-struck when the 41-year-old star made a surprise appearance while 150 of his personal items went under the hammer for charity at Bonhams in Knightsbridge.

Taking bids in front of his wife Ayda Field and father Pete Conway, he sold off a set of handwritten lyrics to his duet with Kylie Minogue "Kids" for £5,500 minus fees.

Williams told the auction room: "It's just a set of handwritten lyrics for the popular song from last century 'Kids' Robbie Williams featuring Kylie Minogue, and she is very fit and still is."

Bidders were left in stitches after the Angels singer got distracted when fan Barbara Veras, 26, a doctor from Sao Paulo in Brazil, entered a bid.

He told her: "Haven't I kissed you during a gig?

"Are you Barbara, is your name Barbara? Nice to see you again, you normally wear really red lipstick and are at the front of the shows.

"It's nice to meet you, glad we've had a chat now because we kissed first and now we're chatting."

Handing over the gavel to Williams before the bidding began, Bonhams auctioneer James Stratton said "I've never leant this to anyone else, but here you go."

Asked by the Press Association if it was his first time as an auctioneer, Williams said afterwards: "I think so, but my memory is shocking."

All proceeds from the sale, called Doing it for the Kids, will go to the Donna Louise Children's Hospice in Stoke-on-Trent, of which Williams is a patron.

The most expensive bid of the day was £25,000 minus fees, made over the phone for the handwritten lyrics to Williams' 2013 track Go Gentle.


The auction raised £145,000, with an MTV Award selling for £10,625 and a cream two-piece suit Williams wore for music video Radio going for £5,250, all figures including buyer's premium.

The singer, who took time between tour dates to come to London for the auction before flying to Bucharest in Romania for a gig, signed autographs for fans as he left through a back door.

Ms Veras said Williams had recognised her after she saw him live in Barcelona, Spain, three months ago.

She said: "I'm actually here on holiday so it was kind of a coincidence but I'm a huge fan and I just had this feeling that maybe he would show up and even if he didn't it would be fun.

"I had no idea he would remember me. I was freaked out and very happy. I blew him kisses and he blew kisses back - it was very cool."

The Brazilian left the auction with three Take That magazines for £150.

Williams' father said his son had the idea for the auction after noticing the items were just sitting in a lock-up in London.

Asked if he ever imagined that Robbie would have so much success, Mr Conway said: "You could never imagine that all this was going to happen, it's just in the luck of the draw.

"I'm so pleased that it has and that he has done so many things and can do this to benefit somebody else by donating all these things."