Be part of the show
There are so many ways to be part of the show. It might be a competition, a phone-in, or simply by sending us an tweet, facebook message, text or email!
Here are just a few of the ways you can get involved.
Do you know what on earth Jamie and Harriet are talking about?
Get your weekend off to a great start with loads of prizes from our cupboards.
There are two great ways to keep up with what's happening on Heart Breakfast online.
Contact Jamie and Margherita
Sorry, this form is no longer available.
Recently Played Tracks
1pm - 4pm
Text 'HEART' to 82122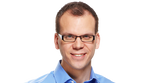 Stay tuned...
Now playing: The best feel good music