Win a Cirque du Soleil VIP evening
Win a fantastic VIP evening with Cirque Du Soleil, Kooza and Le Méridien Piccadilly

We have a pair of tickets to the premiere of Cirque du Soleil, Kooza at the Royal Albert Hall on 8th January 2013, one night in a Deluxe room at Le Méridien Piccadilly and dinner at the fabulous Spice Market to the value of £200.

Simply answer the question below and register your details. Entries close at 11.59pm on Sunday 7th December 2012

KOOZA is a return to the origins of Cirque du Soleil, combining the two circus traditions of acrobatics and clowning in spectacular style.

Set in an electrifying and exotic visual world full of surprises, thrills and chills, it tells the story of The Innocent, a melancholy loner in search of his place in the world, through contortionists, trapeze-artists and the breath-taking high wire.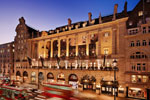 Le Méridien Piccadilly

Discover a new perspective of London inspired by art and cuisine at Le Méridien Piccadilly. With its timeless Regency architecture and its unmatched location in the heart of London's West End, Le Méridien Piccadilly is recognised as the landmark hotel in Piccadilly Circus. All of Central London's cultural attractions are within walking distance from the hotel, giving you more time to immerse yourself into all that the city has to offer. Relax in the authentic, yet modern décor of our hotel rooms in Central London's most popular locale, including our Club Rooms with access to the Club Lounge, and enjoy beautiful leisure facilities such as one of the largest indoor swimming pools in London.
Visit the Le Méridien website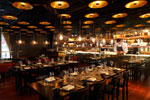 The Spice Market

Inspired by the street food Jean-Georges enjoyed while traveling in Southeast Asia, Spice Market's menu authentically uplifts its inspirations while offering guests the additional delight of family-style dining – food comes continuously throughout the meal and is placed at the center of table for all to share. With each new dish, patrons are transported to the idealization of a Vietnamese street market or a Thai food stall. Regional curries, fish sauces and spices are tweaked to tantalizing effect in dishes like Spiced Chicken Samosas with Coriander Yogurt and Halibut with Malaysian Chili Sauce.
Visit the Spice Market website