Gary Barlow - 'Let Me Go' (Official Video)
The official music video for Gary Barlow's first solo single in 14 years is here!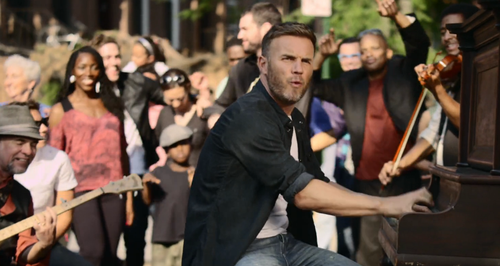 The Take That frontman's latest single was first played on Heart last week along with the news that it will precede a brand new album - 'Since I Saw You Last', which will be released on 25th November 2013.
The music video for the first single from the album was shot on the streets of New York City. In the first scene Gary is seen strolling around the streets of Manhattan. Later, he wheels a piano into the middle of a road and begins to play. He is then joined by dozens of passers by, who play guitar and sing along to his lyrics.
Watch the music video below, and scroll down to get a chance to win some exclusive personalised signed artwork for Gary's forthcoming album.
Take a look at Gary Barlow in the studio as he pens his new album 'Since I Saw You Last'.
How much do you love Robbie Williams? See if you can guess his biggest hits from the music videos...
Recently Played Tracks
To listen live, choose your preferred location:
On TV:

24 Reasons We Heart Christmas!

9pm - 11pm
Mud Lonely This Christmas

21:58

Ariana Grande Santa Tell Me

21:54

Robbie Williams Dream A Little Dream

21:51

Mariah Carey All I Want For Christmas Is You

21:47
Deposit £10 to get a £40 Welcome Bonus - That's £50 to play bingo, slots and more!*
Over 50 tracks to make you feel-good. New album out now...
Local
Make Heart the soundtrack to your day and you could be a winner with great prizes up for grabs throughout the day.