Arnold Schwarzenegger Shocks Fans As The Terminator In Hilarious Wax Work Prank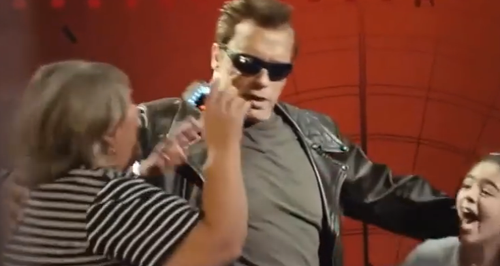 Watch as these fans get a bit more than they bargained for at Madame Tussauds...
He always said "I'll be back" but fans in Hollywood weren't prepared for Arnold Schwarzenegger's arrival when he posed as 'The Terminator' at Madame Tussauds.
Unsuspecting fans were given the shock of their lives when the apparent wax work came to life as they attempted to take selfies with the star.
The fun didn't stop there either as the 67-year-old actor headed out onto the streets of Hollywood to cause more carnage as The Terminator.
Wearing full face make-up and his signature leather jacket, Arnie strolls into a sunglasses shop hoping to get his hands on some bulletproof eyewear, and a showdown ensues when he comes face to face with his Hollywood doppleganger!
Hilarious!