Watch Buzz Aldrin And John Travolta Break Out Some Seriously Smooth Moves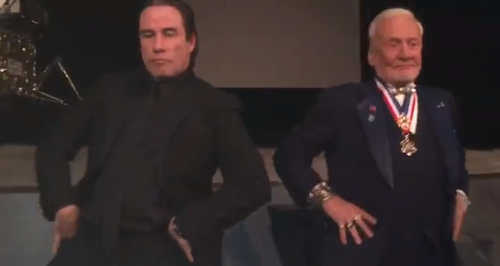 The moon walking legend gets some top jiving tips from Mr Danny Zucko himself… and the results are AMAZING!
He may be an American hero, but Buzz Aldrin showed that even Apollo astronaut's know how to kick back and have a good time when he got down to the music with none other than John Travolta.
The pair showed off their killer moves as they kicked off an evening raising money for the ShareSpace Foundation which raises money for science in education.
Even Travolta himself was blow away: "To be here at the Kennedy Space Center, under a Saturn V rocket with an American hero like Buzz Aldrin, it's just quite a privilege," he reportedly told Florida Today.
Watch the BRILLIANT footage below:
John Travolta taught me some smooth dance moves for auction at my Buzz Aldrin's ShareSpace Foundation Gala last night commemoration the 46th Anniversary of Apollo 11. It was all for a good cause and a dance party ensued at the NASA's Kennedy Space CenterI thought I held my own. What do you think?If you'd like to support my Foundation and STEAM education go to my website at www.ShareSpace.org

Posted by Buzz Aldrin on Sunday, 19 July 2015