Ed Sheeran Duets With Kermit The Frog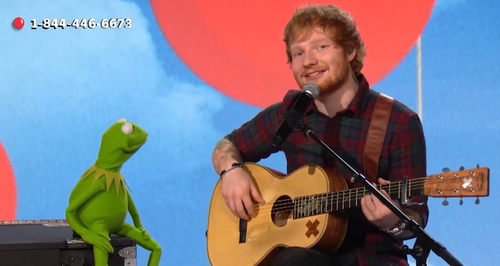 Has the 24-year-old singer finally found his perfect partner? Watch this video and decide for yourself...
He's duetted with everyone from best mate Taylor Swift to Sam Smith, but we think the pop prince may have actually found his singing soul-mate.
The 'Thinking Out Loud' singer took time out of his busy schedule of touring and promoting his music to help raise money for Red Nose Day USA… and by the looks of things he rather enjoyed himself!
The musician looks happy as larry as he strums his acoustic guitar and sings with his amphibian friend about rainbows.
"Sing it out brother" Ed calls out encouragingly to Kermit.
"Someday we'll find it, the rainbow connection, the lovers, the dreamers and me" the pair reel off.
Beautiful boys! Next stop, the top of the Billboard charts!