WATCH: Jamie Oliver Gets A Special Birthday Surprise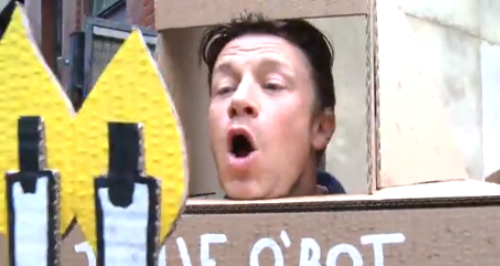 The naked chef celebrated his 40th birthday in style with an amazing parade organised by his family, friends and colleagues. Watch the fun video below...
If Jamie Oliver had hoped his 40th birthday would pass by with little fuss, he was sadly mistaken as his family, friends and co-workers organised an epic parade in honour of the big day.
As Darth Vader pulled the celebrity chef out of a meeting, his face quickly turned from confusion to joy as he realised what was happening.
Watch the video below...
Colleagues from all over his company, including the legal team, restaurant staff and more, lined up throughout the building and on to the street with colourful signs leading the way for his birthday celebration.
With a selfie cake, robot Jamie and a choir, the TV chef certainly had a birthday to remember as he was led down the street to his restaurant where his wife, Jules was waiting with the rest of his loved ones for a party.
Overcome with emotion, he teared up as his blew out the candles on his five-tier birthday cake amongst cheers from his nearest and dearest.
Awww, what an amazing surprise. Happy 40th birthday Jamie!