WATCH: Little Boy Gets His First Taekwondo Belt In The Cutest Way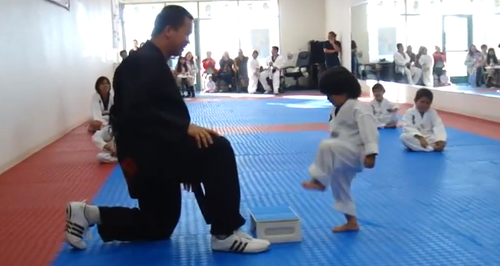 We can't get over how adorable this little one is! Watch how he tries to break a board in his Taekwondo class to get his very first belt.
We're melting right now.
A video has appeared (presumably shot by a proud parent) of a little boy trying to break a board in his Taekwondo class.
The teacher shows him how to kick and they practice together a couple of times, but the student doesn't quite grasp the concept.
He tries to jump on the board, then flips it over... finally, after much instruction, he manages to kick it, but he's so little the board doesn't break!
Awwwww.
After many attempts he finally does it and he gets his very first Taekwondo belt - even doing a little dance to celebrate. Sooooo cute.
Watch the adorable video below...