Best Surprise Ever? Shocked Bride Given HILARIOUS Dance By Groomsmen.
Ballerina Wedding: Surprise Groomsmen Dance
07:59
This blushing bride got more than she bargained for when her groomsmen presented her with a hilarious 8-minute choreographed routine.
A wedding day is always a day to remember, ESPECIALLY when your wedding party of buff men perform a routine to all your favourite hits!
Jazz-hands, shimmying and hip thrusting to Bruno Mars 'Uptown Funk' were all a part of the choreography as the blushing bride looked on in fits of giggles.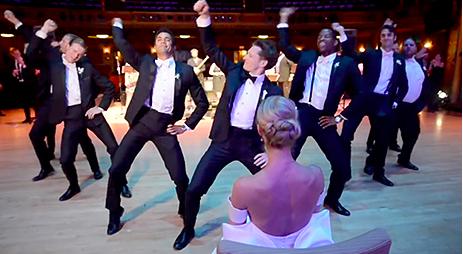 The groomsmen dance to 'Uptown Funk' by Bruno Mars.
According to Richmond Times-Dispatch, the Valerie was completely caught off guard by the surprise as the groom, Kirk had been planning the routine in secret for four months with his pals - even sending them video tutorials to practice!
"I knew how important it was to her," Kirk told the newspaper. "So I figured, we're going to do this or die trying."
Aww how cute?