WATCH: First Trailer For 'The Hunger Games' / 'Game Of Thrones' Film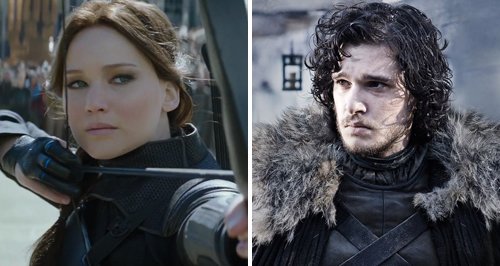 Love Katniss Everdeen? Love Jon Snow? Watch the pair go head-to-head in a new fan made movie trailer which merges the two popular franchises...
Hands up wants to see a 'The Hunger Games' and 'Game Of Thrones' movie? Everyone? Yeah, we thought so.
Well, if one YouTuber has anything to do with it, this is exactly what will happen...
If you think Katniss and Jon will be comrades in arms though, you're in for a shock as the pair don't seem to be on the best of terms.
Watch the so-good-we-hope-it-gets-made-into-a-movie trailer below...
Creator David Elmaleh takes advantage of the fact that the villain in 'The Hunger Games' films is called President Snow and mashes the latest 'The Hunger Games: Mockingjay — Part 2' trailer with season 5 of 'Game Of Thrones' to create one epic idea.
In it Katniss Everdeen (Jennifer Lawrence) vows to stop the evil Snow (Kit Harington), but something tells us he's not going down without a fight.