WATCH: Jessie J Duets 'Flashlight' With Adorable Fan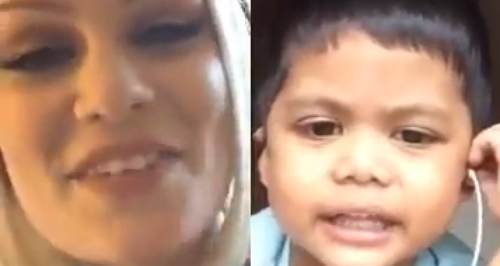 The singer teamed up with a young fan for a must-see karaoke session. Sooooooo cute!
Jessie J might be one of the biggest names in British music but she still has time for her fans... even the really young ones.
The 27-year-old singer teamed up with Issey from Singapore on the Sing! Karaoke app for an adorable duet of her hit single, 'Flashlight', which is featured in new film, 'Pitch Perfect 2'.
Watch the super cute duet below...
Issey's mum, Ayu RyanAdam shared the video on her Facebook page and has had over 150,000 likes and 170,000 shares so far.
She also recently took to Facebook to address her son's new-found fame: "I am overwhelmed with the number of friend requests I received! Wow! Just want to let you guys know that Issey's video was meant to be shared with my sisters on FB and I didn't expect it to receive so many views. To my new friends and followers, there is actually nothing extraordinary on my FB profile. Nonetheless, thank you for the love! Here is Issey! My flashlight."