Heart Breakfast
Heart Breakfast with Stuart and Natalie
Start your day with Stuart and Natalie on Heart Breakfast.
They'll give you a few giggles as you deal with the morning chaos and try and gets the kids ready for school and fly out of the house for work.
Plus after 9am take a trip down memory lane with the time tunnel.
They'll keep you up to date with the traffic and travel every 15minutes so you can try and avoid the queues and get to work on time!
Heart Breakfast with Stuart and Natalie - Monday to Friday 6am to 10am
Find out what we're chatting about on the show and get in touch.
Lee Ryan pops in to meet Heart Breakfast
Recently Played Tracks
7pm - 10pm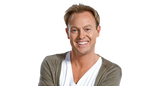 Stay tuned...
Now playing: The best feel good music