Cat shot twice in Rhyl has to be put down
20 February 2018, 18:54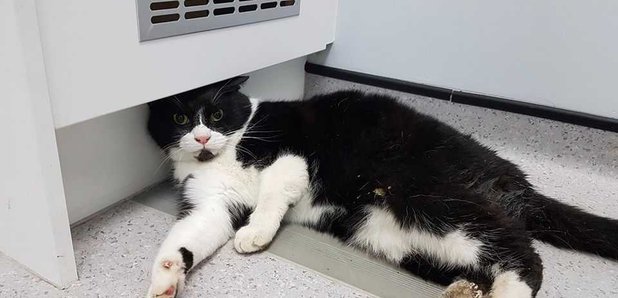 A cat has had to be put down after being shot twice by an air gun.
The black and white cat was taken to Vets4Pets Rhyl in Rhuddlan by a member of the public.
The cat was so badly injured the vets found he had no use of his back legs.
Vets carried out surgery but took the decision to put the cat to sleep to prevent further suffering as one an air gun pellet was lodged into his spine.
The pellet was found to be very deep which suggests the animal was shot at close range.
They also found a second air rifle pellet just behind the front legs of the cat, which appeared to be an older injury.
RSPCA inspector Jenny Anderton said: "This cat must have been through a terrifying ordeal, being shot by an air gun, not once, but twice.
"He was found on Dorchester Close, off Bryn Cwnin Road in Rhyl and so far no owner has come forward.
"He wasn't microchipped so we can't identify his owner.
"The person who found the cat in their garden only found him by chance and it is very upsetting to think how the cat may have had prolonged suffering if no one had noticed he was there.
"We believe the pellet wound may have occurred either on the Friday or the days leading up to it.
"We don't know when the first air gun incident took place. If anyone has any information please give us a call."