Swap Gloves For Subs At Subway This October!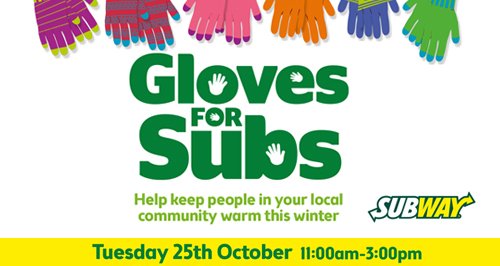 Keep warm and do good this winter, as at Subway they want you to get involved in Gloves For Subs! And it's so simple - you take in a brand new pair of gloves and they give you a sub and a drink for £1.
On Tuesday 25th October between 11am and 3pm, if you donate a NEW pair of gloves to a participating Subway store, you'll get a 6-inch Regular Sub and a drink for only £1!
How's that for a bargain? Plus by helping out, you'll be keeping your community warm over the course of this winter.
Thank you for participating in Gloves For Subs
Terms and Conditions: Donate a new pair of gloves to a participating SUBWAY® store between 11am and 3pm on 25/10/2016 to be eligible to receive a 6-inch Sub and a 16oz (455ml) dispensed drink for £1. The gloves will be distributed via organisations shown on the Subway website. Not valid for double meat, double cheese or any other extras.
Go to www.subway.co.uk/vouchertermsandconditions.aspx to check which stores are participating. Participation may vary. Limited to one per customer, per visit. All third party trademarks are the property of their respective owners. SUBWAY® is a Registered Trademark of Subway IP Inc. ©2016 Subway IP Inc. May not be combined with any other offers or discounts.

Puff Daddy/Faith Evans I'll Be Missing You

now

Ed Sheeran Castle On The Hill

20:24

James Arthur Say You Won't Let Go

20:16

Kelly Clarkson Stronger

20:14