Perkins Great Eastern Run 2017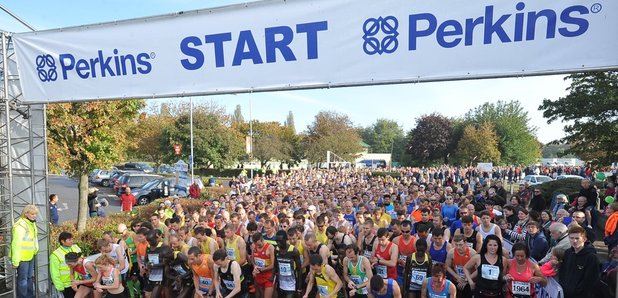 The countdown's on to one of the UK's fastest-growing half marathons on Sunday 8th October, which follows a flat route right through historic Peterborough City Centre.
If you haven't signed up yet, you still have time to get involved and train ahead of the big day in October. Entries close on Friday 6th October and it's shaping up to be one of the biggest events ever!
>>> Check out road closure info and travel advice for the day
The event also features the Anna's Hope 5K Fun Run - and both races start and end at the Embankment.
Runners are able to raise sponsorship for the charity of their choice, including the half marathon's title charity The Jane Tomlinson Appeal and the Anna's Hope Fun Run.
>>> Miss Peterborough runs with Team Heart in this year's event
Want to train and meet new people? Why not attend one of the fortnightly training sessions at Peterborough Embankment and make sure you're ready to set a great time at the race.
More About The Race
The Perkins Great Eastern Run is proudly supported by Heart and organised by Peterborough City Council.
The Perkins Great Estern Run is an event that local Peterborough residents always get behind.
Expect hundreds of spectators to line the course and cheer you on your way if you sign up to take part this October.
There will also be a brilliant warm up provided by Fit4Less Peterborough before the race starts to get you set for the challenge ahead!
Anna's Hope 5k Fun Run
The Anna's Hope 5k Fun Run is open for anyone to enter. The charity was inspired by Anna Olivia Hughes, who tragically died from a brain tumour aged only three years and eight months in 2006.
It's dedicated to giving hope to children and young people in the region diagnosed with a brain tumour and helps over 100 children each year.
>>> Find out more and sign up here
Jane Tomlinson Appeal
Once again, the Jane Tomlinson Appeal will be the race's half marathon title charity.
Before her death in 2007, Jane Tomlinson CBE raised £1.85 million for children's and cancer charities through a series of physical challenges. Although Jane spent most of her life in Yorkshire, she spent a period of time living in Peterborough when her husband Mike worked in the city.
Their daughter Rebecca, one of three children, was born at Peterborough District Hospital and will also be running in the race.
Launched back in 2002, the Jane Tomlinson Appeal has now raised over £7.6million for charity supporting a range of organisations both local and nationally.
All proceeds raised by runners in the charity's name will be shared between local causes. The charity joins the other race partners including Anna's Hope, the official charity of the 5km fun run.