Peterborough Firework Fiesta 2016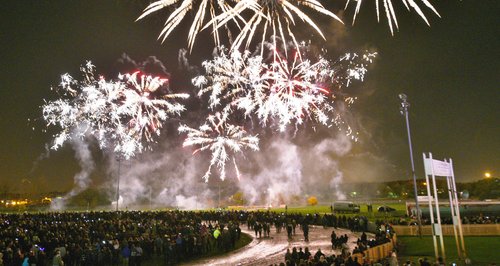 Join Heart for live music, great family entertainment and a superb firework display on Saturday 5th November at Peterborough Arena.
Picture: Peterborough Telegraph
This is the one of the biggest firework displays in the UK provided by Titanium, the company behind national celebration fireworks such as the Commonwealth Games and New Year displays in London and Edinburgh.
With live music, free covered grandstand seating for 2,000 people, a large fairground, food outlets and a licensed bar, it's a great family night out.
The Peterborough Firework Fiesta is proudly supported by Heart.

Times
5:00pm - Gates open
5:25pm - Show begins
6:00pm - Lighting of the bonfire
6:30pm - The Empire
7:05pm - Wildcats Theatre School and Academy
7:30pm - Fireworks
10:00pm - Gates close
More about this year's acts
The Empire are an excellent Peterborough-based covers band who perform a range of classics from the last 50 years to today. Warm up your vocal chords with a hot chocolate and sing along to all the classics!
>> Click here to find out more about the band.
Wildcats Theatre School and Academy will be putting on a fantastic entertainment show in the lead up to this year's Fireworks. Their dance troupes mixed with live singers will prepare audiences with a fantastic showcase, with a Halloween twist! The show is performed by talented students from Eastern School of Performing Arts and Wildcats, which is a leading theatre school based in Stamford, Lincolnshire.
>> Click here to find out more information about the school.
Video: last year's display
Here's a quick look at the Firework Fiesta in 2015...


Grab your ticket
Children (ages 2 to 14) £3.00 in advance, £5.00 on the night
Adults (aged 15 and above) £7.00 in advance, £10.00 on the night
Outlets
▪ The Tourist Information Centre, Bridge Street – Cash or Card
▪ Queensgate Information Desk (Upper Floor) – Card only
▪ The Cresset Box Office, Bretton Centre – Cash or Card
▪ Notcutts Garden Centre, Oundle Road – Cash only
▪ Ferry Meadows Visitor Information Centre – Cash or Card
▪ Ferry Meadows Caravan Park – Cash only
▪ Van Hage Garden Centre – Cash only
Online ticket sales will go on sale shortly.

You can also phone the ticket office on 01733 452336
See the display
Don't miss your chance to see one of the region's best firework displays.
Parking

All parking is within walking distance of the venue.
Separate car parks and pay points for entry to Firework Fiesta will be available for each entry point.
Vehicle and pedestrian entry to the Showground will be via Loch Lomond Way (Gate 5A)and off Dunblane Drive (Gate 13).
A taxi drop-off and collection point has been arranged opposite the Harvester Inn off Oundle Road. Taxis will not be allowed into the showground.
The showground site will be closed to all traffic from 7:30pm to allow all exit routes to be cleared and with the event attracting around 10,000 visitors, anyone planning to go should allow plenty of time to arrive.
At the end of the evening, visitors will be able to leave by three exit points: Loch Lomond Way, Dunblane Drive and the A1.
All routes in and out of the showground will be one-way.