Peterborough: Louis Smith Reaction
Team GB's gymnasts, led by Peterborough's Louis Smith, are celebrating picking up a bronze medal.
Louis, who trains at Huntingdon Gymnastics Club, led Team GB to a first team medal since the Stockholm in 1912.
The group originally finished in second place and qualified for a silver medal, however was demoted to bronze following a successful appeal by Japan's athletes.
The Peterborough-born captain of Britain's bronze medal-winning gymnastic team has said that he was "ecstatic'' about their victory.
The 23 year old hinted that it may be his last Olympics however, saying he would be too old to compete at the next Games.
Speaking after the historic win, Louis told ITV's Daybreak: "We're very ecstatic about what we've done.
We've overcome a lot of people thinking we couldn't do it.
We went out there, we had fun, and we became Olympic bronze medallists.''
Meanwhile coaches at Huntingdon Gymnastics Club, where Louis has spent the last few years training, have added their congratulations.
One coach, Adam Scott, said: "It was absolutely fantastic.
We went into the competition thinking a top five finish would be fantastic, but the boys did an unbelievable job and managed to keep their cool.
Years ago, when I was a gymnast, this achievement was untouchable.
There were Eastern European and Soviet Union gymnasts who were unbelievably amazing, but we're now up there with the best of them."
Adam added Louis is already likely to be looking ahead to Sunday, when he will take part in the final of the men's gymnasts individual final: "He'll just be fine-tuning his routine for Sunday and focussing fully on the pommel-horse.
He'll probably have a bit of a rest day today but knowing Louis he will want to be in the gym just keeping things ticking over."
Peterborough gymnast Louis Smith signs off from social networks to concentrate on London 2012.
Peterborough gymnast Louis Smith talks to Heart about his hopes for London 2012.
To show support for Peterborough's Olympic medalist Louis Smith, Kev and Ros went to see how hard the pommel horse is.
Recently Played Tracks
6am - 10am
Text 'MUSIC' to 82122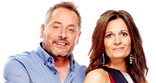 Stay tuned...
Now playing: The best feel good music
Deposit £10 to get a £40 Welcome Bonus - That's £50 to play bingo, slots and more!*
Over 50 tracks to make you feel-good. New album out now...