Heart Breakfast
Meet Kev & Ros
Find out what time Kev's alarm goes off, his most used app and the best gig he's ever been to!
Want to find out a few secrets about Ros? We've been probing her!
Keep in touch! Join Kev & Ros on Facebook.

How Do I Contact The Show?
We love getting your calls, texts and emails! If you'd like to be part of the show, text MUSIC to 82122, call 0345 481 00 22 or email using the form at the bottom of the page.
Win On Heart Breakfast!
Elton John is coming to Peterborough on Sunday 11th June and we have your chance to win tickets!
Heart Breakfast have an amazing chance for you to go on a brilliant virtual reality experience. Find out more here.
Recently Played Tracks
1am - 6am
Text 'HEART' to 82122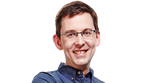 Stay tuned...
Now playing: The best feel good music