Gym Bubbas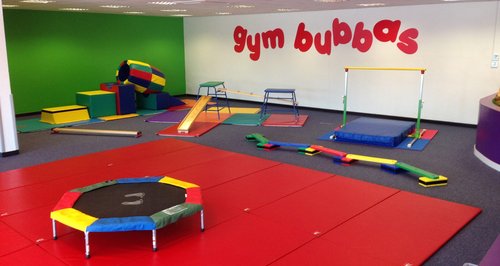 Gym Bubbas offer baby, preschool and children's gymnastics classes for children aged 4 months – 10 years in Plymouth. Classes incorporate gymnastic based activities aimed at developing little ones physical, social, emotional and cognitive skills.
Gym Bubbas' baby and preschool classes are 45 minutes long with primary school sessions running for 1 hour. Classes run from their purpose built facility on Drake Mill Business Park in Estover, Plymouth.
In classes your instructor will guide your child through a variety of motor skills and gymnastics activities. Children will learn key skills in gymnastics that help develop body awareness, balance, posture and coordination. Activities are completed on both the floor and specifically designed gymnastics equipment which aid the development of children's flexibility and strength.
Classes incorporate group activities to develop little ones social and listening skills, giving them the opportunity to interact with other children and to further develop concentration.
Each week sessions have a specific theme to focus the skills taught. The themes of the classes not only help develop children's imagination but also ensure that no two classes are ever the same.
At Gym Bubbas, children are given the freedom to learn at their own pace where emphasis is placed on building confidence and self esteem as well as having fun. Their small class sizes ensure each child gets time with the instructor to progress their skills. The instructor will not only explain what your child is doing, but why they are doing it, which helps you to understand the reason behind the skills as well as how the skills benefit your child.
Their specifically designed program is tailored to the developing needs of each individual child and helps set the basis for children to lead an active and healthy life.
Find them on Twitter and Facebook