Gareth James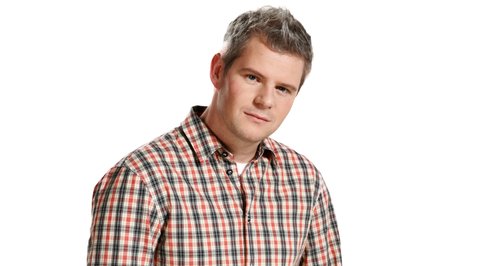 We grabbed Gareth and asked him a few questions, here are just a few of the answers he gave us...
Where are you from originally?
Newport (South Wales)
When did you start your first job?
Started out working in the marketing department at the Welsh Development Agency in 1998, producing marketing materials to market Wales to overseas investors.

When did you start your first radio job, what was it?
Saw an ad in the paper and in 2003 started presenting traffic bulletins live from a plane for a radio station in Bristol.

What do you love about radio?
I love radio because it's so immediate, in television you need to write and re-write scripts, find props and sort out lighting. With radio you can bring an idea to life in seconds.

Worst job you've done?
Working in customer services at British Gas.

And the best...
Set up a design agency with friends.

What do you like outside of work?
Design, current affairs, politics, music, skiing, travelling.

Your favourite TV show?
Gavin & Stacey, Murder She Wrote, Morse, QI

Favourite meal?
I don't like corned beef but everything else is my favourite.

Favourite drink?
I don't like cider but everything else is my favourite.

Favourite celebrity?
Russell Brand

Favourite restaurant type?
Cheap ones

What do you drive?
Alfa Romeo

Favourite thing to do at the weekend?
Find a nice country pub and just hang out with friends.

What are you like in the morning?
Too happy and too full of life for 5am.

How does your best friend describe you?
Argumentative

How does your Mother describe you?
Independent

Last film you saw?
Paranormal Activity

If you had a million quid what would you spend it on?
I'd buy a florist.

What would the title of your biography be called?
Floristry . . the long way round .

What do you do that annoys you and what do you do that annoys everyone else?
I always put stuff off until the last minute.

Shopping or sport?
Shopping

Party animal or bystander?
Can be a bit of both.

Facebook or twitter?
Facebook

Phone call or text message?
Phone Call

Tea or coffee?
Coffee

Night in or night out?
Night in

Bar or pub?
Bar

And anything else you want to tell us?
My lovely blonde hair went grey when I was about 15 :-(

The Jamaican sprinter is set to give a whole new meaning to the word fast-food.
Stick your headphones in for this one!