Heart's Win Before They Sing!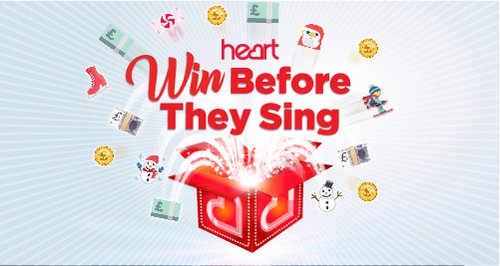 As it's the very last day of our competition, we're giving you not £1000, but £2000 pounds every round today!
Spend it on presents for all your friends and family, splurge it on the biggest turkey of all time, or maybe use it for a last minute break to the sunshine for the festive season. It's totally up to you!
And today, as it's the FINAL day of the game, we're giving our lucky listeners the chance to win double the prize money!!!
Here's what you need to do to win?…
Every hour during your workday (10am – 4pm), Toby or Matt will ask you a Christmas question. Get it correct and we might randomly select you to come on air to play the game.
We'll then play you the start of a song… you shout the correct name of that song before the singing starts… and the money is YOURS!
So, will the start of one song be the start of your best Christmas ever?!
Make sure you're listening to Heart weekdays from 10am for your first chance to win… then play EVERY HOUR DURING YOUR WORKDAY!
Good luck!
See full terms and conditions here