Take That On Heart With JK & Lucy!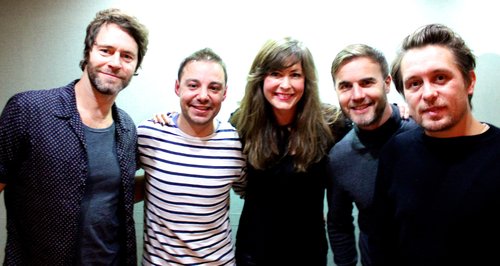 On Saturday morning, one of the UK's most successful pop acts of all time - Take That, joined JK & Lucy in the studio!
Gary, Howard and Mark joined JK and Lucy to chat about life without Jason, their brand new album PLUS they even helped out with a special Time Tunnel from a vintage Take That year!
If you missed it have a listen below to some of the best bits!
Part 1 – JK and Lucy welcome the boys to the show and find out how the boys felt after Jason left.
Part 2 - The boys reveal what they have missed most since Jason left.
Part 3 - Howard, Mark and Gary share there favourite Track off the new album and some funny moments from recording it.
Part 4 - Mark tells us about some of his favourite touring moments!
Part 5 - Gary reveals he has a very close tie to James Bond and Daniel Craig
Part 6 - The boys chat about their 1st No 1 and how they chose there music video out fits in the 90's
Part 7 - The fellas share there memories of being beaten to Christmas #1 by Mr Blobby! You might be surprised by there reaction!
Part 8 - Find out which music video Gary thinks could have killed there career!
Gary's obviously loving it to…