Meet A Mystical Mermaid At Deep Sea World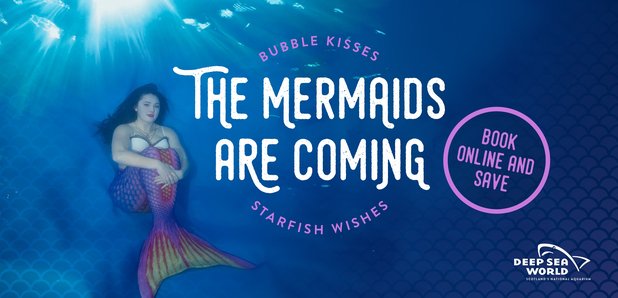 There's loads going on beneath the deep this Easter holiday as Deep Sea World Mystical mermaids are waiting to meet you, plus there's all of the underwater creatures waiting to say hello too.
Go on a voyage of discovery through the depths of the ocean, the breezy shorelines of Scotland and the stifling jungles of the Amazon. Wander through their themed exhibitions and marvel at the fascinating sea creatures, marine life, and amphibians in their aquarium.
There's seals, an underwater safari and piranhas plus you can take a trip to the Rocky Shores, Lake Malawi and the Amazon to discover some unique creatures.
What's more unique than a Deep Sea World mermaid? Their Mermaid will be appearing at the aquarium in the Easter holidays on the 3rd, 5th, 9th and 11th April.
Win a family day out at Deep Sea World this Easter
You could be heading to Deep Sea World this Easter as we have a family ticket for two adults and two children which will gain you access to the aquarium and £100 to spend in the gift shop, along with a private meet and greet with the mermaid.
For the chance to win, see if you can find our prize in our Crack 'n' Collect game and fill in your details before 23:59 on Sunday 1st April.
Deep Sea World is a great family day out,
with some great offers available this Easter
*Terms and Conditions apply.
See online offer conditions at https://www.deepseaworld.com
To be redeemed within the school Easter Holidays from Mon 2nd to Sun 15th April 2018.
Discounted tickets purchased online must be purchased at least 1 hour prior to arrival.

Forthside Terrace, North Queensferry, KY11 1JR