Get Down To The 'O-fish-al' Opening Of Fishkeeper Scotland in Livingston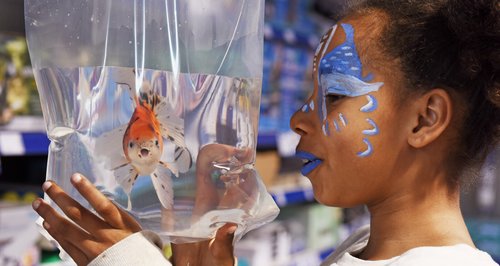 Fishkeeper Scotland is hosting a special launch weekend in Dobbies Garden Centre, Livingston on Saturday 3rd & Sunday 4th December. There's loads going on including offers, competitions and goody bags.
Grab the kids and celebrate the launch of Fishkeeper Scotland in Livingston. With a ceremonial ribbon cut at 9am on Saturday 3rd December, and the first 25 customers receiving a goody bag worth over £25 each!
There'll be competitions throughout the launch weekend to win various prizes, including aquariums and vouchers, plus you can take advantage of the special introductory offers and discounts, and enjoy a piece of the specially designed fish-shaped cake.
Kids can also get their faces painted and take part in a colouring competition to win a starter aquarium - for a small donation which will go to the SSPCA, who rescue and rehome vulnerable animals across Scotland.
Our very own Paul Harper from Heart Scotland's Drivetime show will be there on Saturday between 11.30am-1.30pm with even more chances to win!
Aquarium Sale
The store will also take part in Fishkeeper Scotland's, once a year, country-wide promotion. All 11 stores offer discounts on selected aquariums, some with up to £300 off.
They have some fantastic offers available whatever type of aquarium you fancy! From exclusive real oak aquariums to modern designer models, you will bag a bargain in their sale – don't miss out!
Scotland's award-winning aquatic retailer, Fishkeeper Scotland, part of Maidenhead Aquatics, is counting down to the 'o-fish-ial' launch of its 11th store in Scotland in Dobbies Garden Centre, Livingston.
Stocking over 200 aquariums, including their own AquaOak range, there's an impressive choice across all 11 stores, ranging from starter to bespoke marine aquariums, meeting the needs of both hobbyist and avid fishkeepers alike.
The new 1500 sq ft store, just off the M8, has been given a complete revamp since taking over the Dobbies concession and will stock over 5,000 exotic invertebrates and tropical freshwater, marine, coldwater and pond fish from around the world, including Central and South American Cichlids and other species rarely seen in Scotland. The new store also sells a range of freshwater plants, saltwater corals, ponds and accessories.