The Saltire Festival Is Back
The Saltire Festival is back from Thursday 24th to Wednesday 30th November, showing off everything that Scotland is famous for!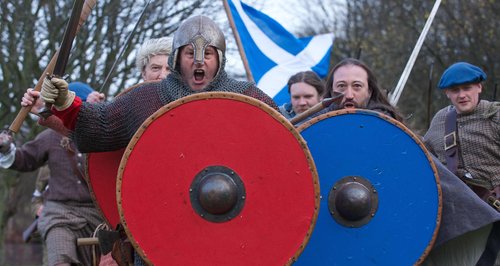 You're invited to celebrate St Andrew's Day and everything uniquely Scottish as The Saltire Festival returns to East Lothian from Thursday 24th to Wednesday 30th November.
Prepare to enjoy the very best of Scottish music, arts, entertainment, innovation and food and drink, with events ranging from horse racing to wine, whisky, comedy and of course, haggis!
Celebrating the Scottish Flag, the festival reflects the story of the how the Picts and Scots gained victory when a Saltire appeared in the sky over Athlestaneford. The Saltire has since been Scotland's flag, so come and celebrate its history and heritage with loads of family fun.
There's two events running throughout the festival, The Kelpie Maquette Tour at Musselburgh Racecourse - celebrating Scotland's innovation and architecture and The #SaltireBlue Tour - shining a blue light on some of the great attractions and architecture across East Lothian.
Take a look at some of the events
taking place during the festival:
Wednesday 30th November

The St. Andrew's Day Concert – St. Mary's Church, Haddington
A selection of choral, folk and classical music performances compared by 'Heather Reid OBE' to conclude the festival.

Now playing: The best feel good music