Ariana Grande And Her Crew Got Matching Tattoos In Sweet Tribute To Manchester
Ariana Grande and her team reportedly got matching bee tattoos after the One Love Manchester show.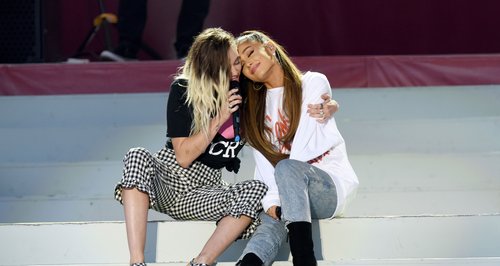 The 23-year-old singer put on a star-studded concert at the Emirates Old Trafford stadium on Sunday to raise money for the victims of the Manchester terror attack, which left 22 dead and over 50 injured, and she and her crew are believed to have had the ink, which is the symbol for the northern city, done on their bodies by tattooists at Manchester Ink to remember the moment forever.
According to The Sun newspaper, Ariana told a pal backstage at the gig: "That was the hardest thing ever I just need to go home now."
The pop megastar, who was joined by the likes of Coldplay's Chris Martin, Take That, Justin Bieber, Miley Cyrus at the show, ended the night by putting her own spin on 'Over The Rainbow', which was praised by her brother Frankie Grande, 34, who was left in tears.
On how she is coping after the atrocity, he said: "She seems calm out there because that's her in her element. That's what she was born to do.
"She is strong, so much stronger than anyone thought. She's strong for her fans."
Play
Ariana Grande and Parrs Wood High School choir perform emotional duet
The singer joined the school choir on stage at One Love Manchester where she comforted one of the singers during a tearful performance
01:27
Meanwhile, the 'Dangerous Woman' hitmaker and her fellow One Love Manchester performers have soared to the top of the iTunes charts.
Her re-release of 'One Last Time' has topped Apple's chart, followed swiftly behind by the original version of the song, which has placed fourth.
Justin Bieber - who also performed at the event - makes an appearance at number two, featuring in Luis Fonsi and Daddy Yankee's track 'Despacito', which has gained international recognition and stormed the charts in recent weeks. Performer Niall Horan's 'Slow Hands' takes third place whilst the Black Eyed Peas' 'Where Is The Love', Coldplay and the Chainsmokers' 'Something Just Like This' and Liam Gallagher's 'Wall of Glass' - all performed at the concert on Sunday evening - are at fifth, sixth and seventh respectively.
Oasis' 'Don't Look Back In Anger' - which has become a poster song for the solidarity of Manchester following the terror attacks - has climbed to eighth in the charts whilst Coldplay's 'Fix You' and Oasis' 'Live Forever' reached ninth and eleventh in the chart.
Prepare to groan.
The Jamaican sprinter is set to give a whole new meaning to the word fast-food.
Recently Played Tracks
To listen live, choose your preferred station:
Boy Meets Girl Waiting For A Star To Fall

Katy Perry Chained To the Rhythm

Pink Raise Your Glass

Jason Derulo Want To Want Me
Stay tuned...
Now playing: The best feel good music