Ariana Grande And Parrs Wood High School's Tribute Moved Everyone To Tears
The high school choir performed Ariana Grande's song 'My Everything' alongside the singer at the One Love Manchester concert.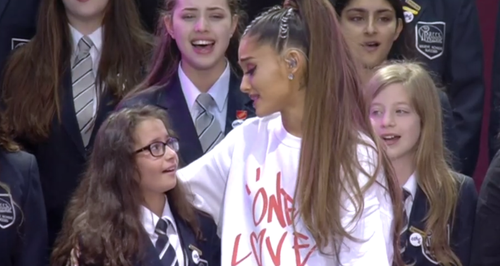 Last night's One Love Manchester concert brought some of the biggest names in the music industry together for a special performance to raise money for the victims of the terror attack at Ariana Grande's concert.
The concert was organised by the singer herself and included performances by her and the likes of Justin Bieber, Take That, Katy Perry and in a surprise appearance, Liam Gallagher.
But there may have been one group that some didn't recognise on the night and that's the Parrs Wood High School Choir.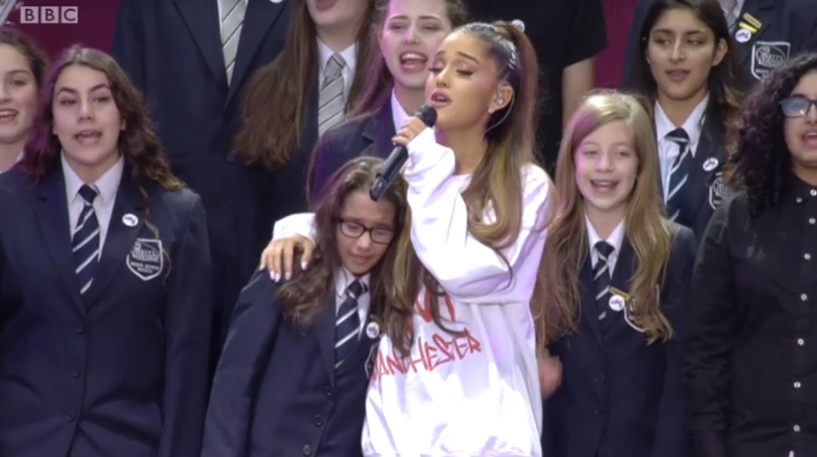 Over the past few weeks since the attack the school choir, from Manchester, released a a cover of Grande's song 'My Everything' with school girl Natasha Seth leading the vocals.
The song attracted the attention of Ariana and she invited them to join her on stage for the special performance, and it was a truly heartwarming thing to see.
Play
Ariana Grande and Parrs Wood High School choir perform emotional duet
The singer joined the school choir on stage at One Love Manchester where she comforted one of the singers during a tearful performance
01:27
Young Natasha's vocals echoed round a mesmerised Old Trafford Cricket Ground and audience members and Ariana Grande were seen with eyes filled with tears.
It was a truly poignant tribute by some brave youngsters spreading love in the face of hate and a once in a lifetime experience for them.
Ore Oduba who was hosting the TV coverage of the concert said: "You can see just on their faces just what it meant. It's an incredible moment."
"Not least because as we will remember from that atrocity that we had a couple of weeks ago here in Manchester – so many young people affected. So for those kids from right around the corner from Old Trafford here, that was a really huge moment," he added.
The whole concert was in aid of the Red Cross Emergency Fund which raises money for the victims and their family and throughout the time the concert was on a whopping £2 million was raised.
To donate to the UK Solidarity fund click here or if you would like to donate directly to the victims of the Manchester Attack click here.
Prepare to groan.
The Jamaican sprinter is set to give a whole new meaning to the word fast-food.
Recently Played Tracks
To listen live, choose your preferred station:
Boy Meets Girl Waiting For A Star To Fall

Katy Perry Chained To the Rhythm

Pink Raise Your Glass

Jason Derulo Want To Want Me
Stay tuned...
Now playing: The best feel good music