Beautiful! Ariana Grande Will Release 'Over The Rainbow' For Charity
Ariana Grande closed her One Love Manchester benefit concert with her cover of Judy Garland's Somewhere Over The Rainbow and there wasn't a dry eye in the house.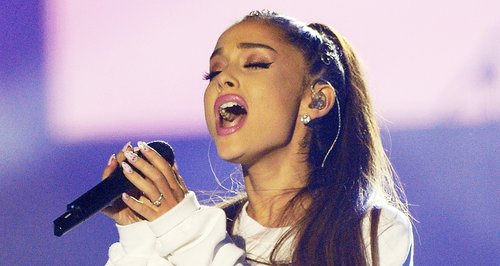 Ariana Grande is to release her rendition of Judy Garland's classic song 'Over the Rainbow' to raise money for the We Love Manchester Emergency Fund and British Red Cross.
Play
Ariana Grande sings Somewhere Over The Rainbow
Ariana Grande performed the song as a finale at One Love Manchester
01:20
The 23-year-old pop star put her own spin on the 1939 track, which was written for the film 'The Wizard of Oz', at the One Love Manchester benefit concert she hosted on Sunday after the Manchester terror attack at her concert in the city, which saw 22 people lose their lives and more than 50 left badly injured.
And now to raise even more funds to support the victims and their families, the 'Problem' hitmaker's team are doing all they can to get the single released.
An insider told The Sun: "Ariana's team are working out behind the scenes what is necessary for the song to be released. But everyone's confident there won't be anything stopping it getting out there and continuing to help those affected by the tragedy."
There is no doubt that Ariana's version of the song will do well in the charts after her re-release of 'One Last Time', which was also made available to fans to raise money, topped the iTunes chart, followed swiftly behind by the original version of the song, which is placed in fourth place.
Play
Ariana Grande and Parrs Wood High School choir perform emotional duet
The singer joined the school choir on stage at One Love Manchester where she comforted one of the singers during a tearful performance
01:27
So far more than £10 million has been raised for the We Love Manchester Emergency Fund.
The whopping sum has been raised through ticket sales, merchandise, and other donations, with over £2 million alone coming from text message donations from within the UK during the three hours that the concert was aired for.
Ariana took to the stage with the likes of Black Eyed Peas, Robbie Williams, Take That, Justin Bieber, Coldplay, Niall Horan, Miley Cyrus, Katy Perry, Pharrell Williams, and Little Mix during the evening, with fans also being treated to a surprise appearance from Oasis superstar and Manchester native Liam Gallagher.
The event was attended by 50,000 people on Sunday, including many of those who were at the 'Break Free' singer's concert when the attack took place.
Very interesting theory...
Nice to see you, see you... nice!