People Are Asking Why Bradley Walsh Was At The Brit Awards
Anyone who's anyone in the music industry was at the Brit Awards last night - which has left a few of us baffled as to why The Chase's Bradley Walsh was slipped an invite.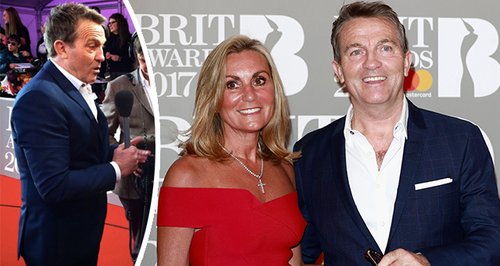 Sticking with tradition, glitter, glam and bonkers dance routines were all in attendance at the Brit Awards 2017. The audience was made up of A-Listers who just wanted to enjoy some stellar performances from some of the biggest names in music.
Yet there was one attendee who looked a little out of place at the shindig – but he was having the time of his life.
The most unlikely of friends ...

Bradley Walsh and Wiley at #BRITs2017 pic.twitter.com/fTj5UN3DRV

— Joe Nerssessian (@joenerssessian) 22 February 2017
Yes, even Bradley Walsh was surprised to see himself on the red carpet, admitting that he felt like "a rabbit between the headlights" and "really didn't know what was going on."
Don't worry – there wasn't a mix-up in the post and Bradley wasn't invited by accident.
Perhaps surprisingly, he had the best-selling debut album of 2016 with Chasing Dreams, where he covers some of the classics such as That's Life and Mr Bojangles.
The album also outsold the likes of Zayn Malik and relative newcomer Jack Garratt.
The 56-year-old told the Guardian: "I just laughed when I found out. I thought it was hysterical. I am probably the oldest new artist Sony has ever signed."
And it looks like Bradley had a ball at the Brits, hobnobbing on the red carpet with rappers such as Stormzy and Wiley.
He even had the good grace to congratulate the blues singer Rag 'N' Bone Man, who took the British Breakthrough Act Gong. Charlotte wondered if Bradley and Rag 'N' Bone Man are secretly related
Love Bradley Walsh, but I actually googled is he Ragabone's dad confused me why he was on his table!!!! #brits #BradleyWalsh

— Danelle Filce (@DanelleFilce) February 23, 2017
Dan compared Bradley to our favourite regional manager
When Bradley Walsh went full David Brent on @Stormzy1 at the Brit Awards #BRITs #STORMZY #BradleyWalsh pic.twitter.com/qRlUVHze5R

— Dan Heard (@DAHeard1) February 22, 2017
Meanwhile, Emma celebrated our favourite new bromance...
Bradley Walsh at the Brit awards table with Rag 'n' Bone Man has made my day #BRITs2017

— Emma Hendrie (@emmahendrieee) February 22, 2017
And Tom totally read our minds...
Bradley Walsh is at the BRIT awards, let's evacuate everybody and just give every award to him. #BRITs2017

— Tom Slominski (@tomslominski) February 22, 2017
Ryan Reynolds made a terminally ill child's dream come true by calling him from the set of Deadpool 2.
The actress Tweeted a plea for help to her followers after some of her jewellery went missing.
Recently Played Tracks
To listen live, choose your preferred station:
Stay tuned...
Now playing: The best feel good music