This Hilarious Joke About Barry Gibb's Glasto Set Made Some People Angry!
The Bee Gees singer took to the stage during the 'legends' slot of Glastonbury Festival.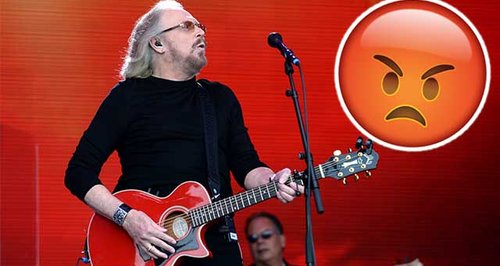 Each year on a Sunday afternoon, Glastonbury Festival plays host to its famous 'legends' slot on the Pyramid Stage.
An established and well loved artist performs a set designed to 'lift spirits' before the final evening of fun at the world famous festival. Previous legends on the bill have included Dolly Parton, Lionel Ritchie, Dame Shirley Bassey and Tony Bennett.
But this year was the turn of Bee Gee's legend, Barry Gibb who has pretty much spent his life writing hit songs.
However when he performed hits 'Tragedy' and 'How Deep Is Your Love' one Twitter user posted a joke that many took WAY too seriously...
Shame Barry Gibb hasn't got more of his own material. First he covered Take That, then Boyzone, now Steps. #Glastonbury2017

— Rachel Burns (@RachJBurns) June 25, 2017
Rachel Burns posted: "Shame Barry Gibb hasn't got more of his own material. First he covered Take That, then Boyzone, now Steps."
Those in the know will realise that this is a totally tongue in cheek comment on the fact that his songs have been covered by those artists over the years and lots of youngsters out there may not even realise they were covers.
We've all danced to the classic Steps version of 'Tragedy' and crooned along with Gary Barlow and the boys to 'How Deep Is Your Love'.
But some people missed the joke and waded in to explain to poor Rachel that she had got the wrong end of the stick - doh!
No hunny, he actually did the songs first and then THEY covered them

— Keith Mbabawo (@KeithThePoet) June 25, 2017
He wrote them you fool.

— Chris Barker (@CBarker1962) June 26, 2017
Thankfully it didn't take long for the critics to cotton on to the fact they'd totally missed the point of the joke and now the initial tweet has gone totally viral with almost 3,000 retweets and nearly 10,000 likes.
We'd love to know what the man himself, Barry Gibb, thinks of all the hoo-ha!
She took the mirror selfie before the reverse camera was even a thing! Say what?!
You know nothing, Jon Snow.