New Book Drops Bombshell: Reveals Winnie The Pooh A Girl
A brand new piece of writing surrounding everyone's most loved bear has revealed something HUGE about the character's identity.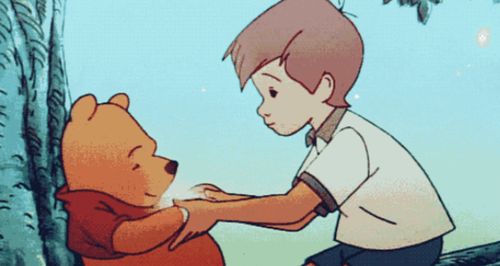 There's more to Winnie The Pooh than simply his love for honey. In fact, a new book has revealed the famed character is actually a SHE not a HE!
Yes... our whole world just turned upside down! Who knew?
We know what you're thinking... the Disney cartoon refers to the bear as a male, however there is difference between the animation and the original bear.
'Finding Winnie' by Lindsay Mattick sheds light on Winnie's rich history, and here are just some of the facts we've found out about Christopher Robins' honey-loving pal.
5 Things We Never Knew About Winnie The Pooh
Christopher Robin's best friend was named after a black bear called Winnie, who lived at the London Zoo.

Winnie The Pooh has Canadian roots as the bear's name was a tribute to the Canadian city of Winnipeg.

Author Lindsay Mattick is the great grand-daughter of Lieutenant Harry Colebourn, a veterinarian who bought Winnie as a cub during the WWI.

He paid just $20 for the real life bear and took her on his travels

Winnie became a little biota a mascot for Cleburne's regiment, but sadly he had to leave her behind in a London Zoo when he was shipped off to France with his unit
And it could be YOU!
She's such a fan of this TV show the palace staff even tape it for her!
Recently Played Tracks
To listen live, choose your preferred station:
Stay tuned...
Now playing: The best feel good music