Here Are Noel Fielding's Iconic Bake Off Shirts And Where You Can Get Them
1 November 2017, 15:47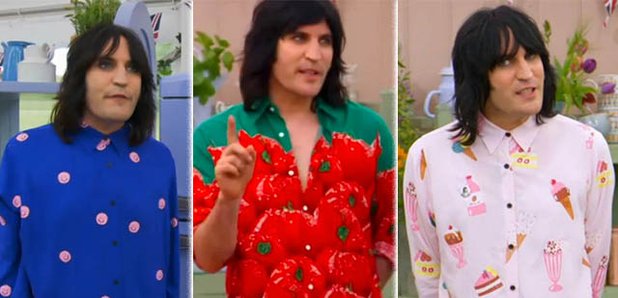 The Great British Bake Off host turned heads with his crazy outfit choices this series.
We've loved the Great British Bake Off SO much that we're still gobbling cupcakes at an alarming rate to try and get over the fact that the series has ended for another year.
Whether your favourite part of the latest series was lovely Liam, Kate dropping her clanger, Steven's deep breaths in the final or Paul's icy blue eyes there is one element of the show that has had everyone talking.
Noel Fielding's shirts.
During the first week, we all admired his outfit in its snazzy glory, but as the series wore on we realised that the shirts the comedian were sporting in the famous tent were only getting better and better.
So in honour of the end of the Bake Off and Noel's natty outfits here are out favourite looks from the funnyman and where they are all from - you're welcome!
The Smiley Shirt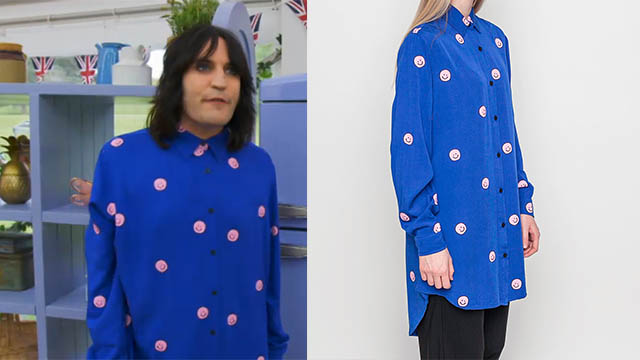 Picture: Channel 4/Lazy Oaf
Now this certainly brought a smile to our face during Bread Week.
This adorable blue number with pink smiles on is from Carnaby Street independent label Lazy Oaf but they sadly don't sell it anymore - hopefully Noel's appearance in the number will encourage them to bring it back!
The Raven Shirt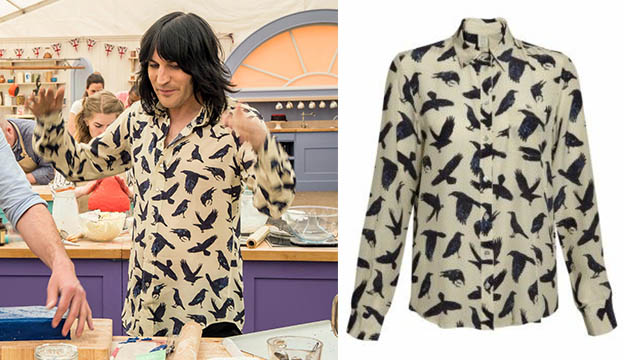 Picture: Channel 4/Silken Favours
This is the outfit that will forever go down in history as the first shirt Noel wore on the Bake Off and may it live on forever! This silky number covered in ravens is from London based silk specialists, Silken Favours.
The Tomato Shirt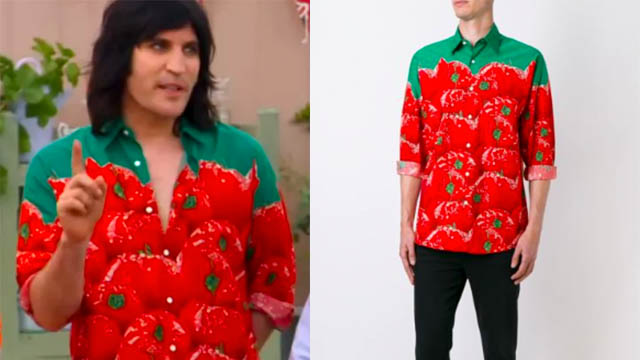 Picture: Channel 4/Farfetch
What more could we have asked for during Italian week?
Noel sported this bold green shirt covered in juicy tomatoes on the exact same week the contestants were asked to make pizza. Coincidence? Certainly not! It is a Vintage Kenzo piece from designer online store Farfetch but it's sadly out of stock.
The Ice Cream Shirt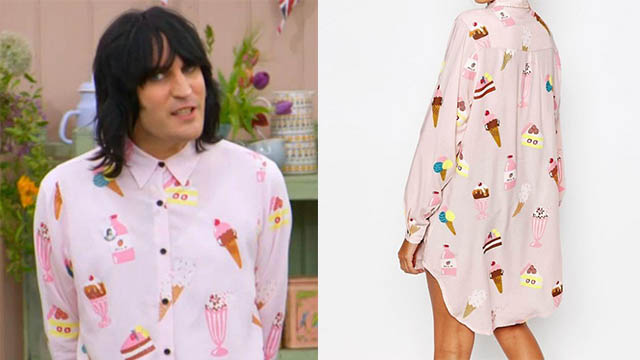 Picture: Channel 4/ASOS
Now for our favourite shirt of them all which debuted during caramel week, it's Lazy Oaf's 'Eat Your Cake Shirt'.
We feel like this shirt was born to star on the Bake Off. Don't even ask us what happened during that week of the competition, we were too busy admiring Noel's incredible outfit.
We're sad to say goodbye to the Great British Bake Off for another year but we can't wait to see what incredible outfits Noel will have up his groovy sleeves for next year.
Watch More: